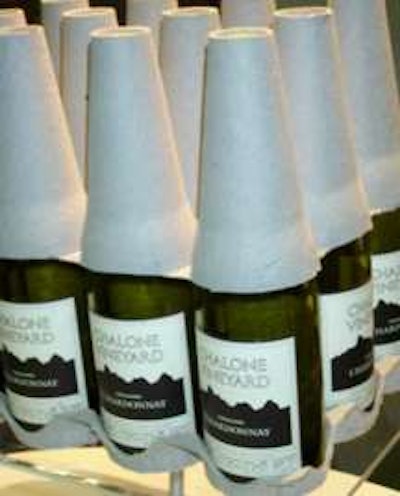 The latest in molded pulp protective packaging technology was introduced by Regale (Napa, CA) at Pack Expo. A new development in the tooling process has reduced considerably the time it takes to produce a molded pulp package design.
Regale explains the technology breakthrough: First, a prototype is designed with high-end, three-dimentional computer software and saved on a CD-ROM. The CD-ROM runs on a rapid prototype machine to mold the tools and prototypes.
On the robotic prototype machine, a screen is placed in the tool and then dipped into a slurry of water and pulp. It uses thermal emissive hot air to dry. Because the screen is made with the tool, a prototype is made in under one minute. Regale claims that a tool and a prototype can now produced in 24 to 30 hours, versus three to five months previously.
Hewlett-Packard is currently testing Regale's Shockwave™ protective packaging for its printers. HP reportedly chose molded pulp to avoid environmental fees associated with foam and plastic packaging materials for overseas shipments.
Other users include Chalone Vineyard Wine, which chose Regale's InPart™ non-scuffing partition system to protect its labels from scuffing. And Libbey Glass is testing Regale's Matrix™ one-piece partition system for its glassware products.