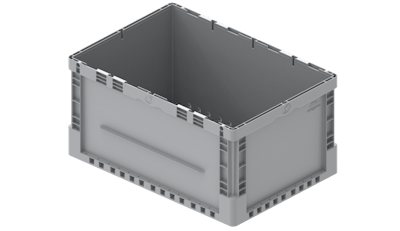 At PACK EXPO International, ORBIS showcased its line of AROS (Automated Reusable Optimized Solutions) products, designed for seamless integration into automated storage systems. AROS packaging facilitates the efficient transfer, storage and organization of merchandise across industries, from manufacturing and distribution centers to store warehouses, according to the company.
The plastic, reusable AROS product line is designed for compatibility with a variety of automated system features, commonly found in food and beverage, e-commerce, retail and consumer packaged goods operations.
AROS benefits include:
High cubic density to maximize product fit with the interior cube in a 650mmx450mm footprint
Offset drain holes and other technologies were independently evaluated by fire protection experts and licensed engineers with options compliant to FM Global Data Sheet 8-34
Interface with automation through fingertip handles for easy manual handling and reduce system downtime commonly found with inconsistent package design
Additional height options available for 125-400mm
Fully recyclable at the end of its service life
Optional dividers can be added to improve density and allow multiple SKUs to be packed in the same tote, and multiple bar-code locations help meet application and system needs. Dividers are engineered to fit into a grid, or hybrid, container bottom and can create up to eight different cells for various part sizes or batches.
"The containers are consistent and have a lot of markers that the automation can use to recognize dimensions and orientation," said Michael Garcia, market manager at Orbis.
Companies in this article