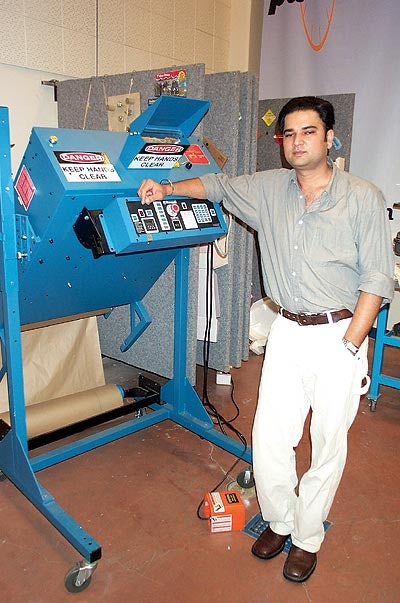 For a midwestern visitor like myself, the sun-bathed palm trees that surround the scenic Orfalea College of Business (OCB) at the California Polytechnic State University in San Luis Obispo, CA, provided a warm September welcome. Besides housing the Industrial Technology (IT) Department, which includes the Packaging Department, the OCB is also the warmer new home for Jay Singh, Ph.D. A graduate of and teacher at Michigan State University, Singh joined Cal Poly in fall '03 to head up the packaging program.
Singh replaced longtime program director Larry Gay, who retired in spring '02. Gay, one of the founders of the packaging program, continues to teach at Cal Poly. Filling the legendary Gay's shoes is daunting, yet Singh inherits a solid program that he believes offers distinct advantages.
Cal Poly is already nationally renowned for the excellence of its engineering program; the most recent U.S. News and World Report assessment of engineering colleges ranked it No.1. However, the packaging program may be better known for its egg drop competition, which has been held annually for 30 years and maintains a strong packaging flavor. Teams creatively devise methods using a limited amount of packaging to allow their raw egg to survive the highest drop to a landing. Nearly 200 students and industry members competed in 2003.
The Cal Poly program offers a packaging minor; additionally, all IT majors are required to take packaging courses.
The university's dynamics packaging laboratory is an open, spacious area that houses major pieces of equipment including a Ranpak PadPak® machine that creates perforated cushioning from rolls of kraft paper, and a Lansmont vibration tester that simulates the rigors of distribution. For more details, the Cal Poly Web site includes a special page on equipment holdings with equipment thumbnails and explanatory text: www.calpoly.edu/~cppaclub/test equip.html. Examples of donors to the packaging program include UPS, Packaging Machinery Manufacturers Institute, Bert W. Martin Foundation (which donated a Hewlett-Packard Model 5000 42"-wide color ink-jet printer), and Carnation, Inc.
The equipment has been used in various university research projects in recent years. Companies that have participated include Sonoco, AirBox, and General Mills (for project examples, see www.packworld.com/go/w109).
"By far the biggest difference I've seen in Cal Poly's program is that the students are much more involved, not just with the classes, but with other activities such as Poly Pack," Singh says. Poly Pack is the annual packaging conference that's organized completely by Cal Poly students (see www.poly pack.us/index.html).
"Also, the class sizes are smaller and the curriculum is very practical," continues Singh. "It's a very healthy combination of industrial technology, business, graphic design, and agricultural science. The students are allowed greater independence to explore, probe, try, fail, and succeed at learning. The continued industrial and educational support has allowed this program to continue to grow. We draw a lot of guest lecturers from the industry who speak firsthand about 'real life' packaging challenges and opportunities."
Cal Poly classes
The most popular class in Cal Poly's program is Fundamentals of Industrial Packaging; the latest class offered is Corrugated Protective Packaging. Structural and graphics design has been added to the packaging curriculum recently; AutoCad training is included in the packaging graphics course work.
Yearly, students in small groups are assigned a product development project that includes packaging. One such project resulted in a waterfall ornament packed safely inside a decorated corrugated container. After determining the appropriate structural requirements, the student group printed, laminated, and then die cut the corrugated.
Also in the works at Cal Poly is the addition of wireless Internet capability. According to Jim Sena, IT chair, the entire campus is scheduled to be wireless by June 2004.
"The benefit of wireless accessibility is true portability," explains Sena. "You can hook into Cal Poly's network and ultimately to the Web/Internet without having to connect through a cable."
There's also a teaching benefit. "Technically, a faculty member can use the wireless network to make presentations in the classroom," Sena says, adding that several technical hurdles remain. With the engineering minds Cal Poly has around, it's assured the university will make that a reality.
Companies in this article