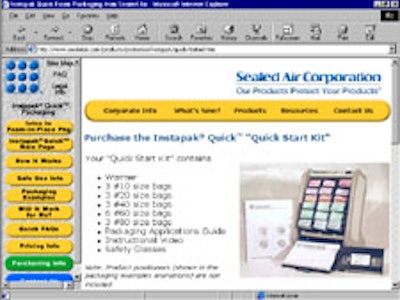 Evaluating the tedious boxes-within-boxes packaging her company was using to package its expensive air bearings, quality assurance manager Lisa Angelino knew there had to be a better way. One search engine and a few clicks later, she not only had her packaging solution–an Instapak® Quick™ "Quick Start Kit" from Sealed Air Corp. (www.sealedair.com)–but a quick and painless way of sourcing the equipment, as well.
Upon first sight, Angelino hoped that the tabletop Instapak device, which creates protective foam-in-place cushions, might be the solution to Aston, PA-based New Way Machine Components' packaging woes. Naturally, she wanted to research the product thoroughly before purchasing. After clicking around the site for a while, Angelino felt ready to make an informed decision.
"It was excellent," she says. "The site answered just about every question I had before we decided to purchase the product." Although a sales representative did make a brief visit to New Way to demonstrate the Instapak cushions, Angelino calls the visit a formality. "The decision was all but made after seeing the Web site. And when we decided to buy, it was very easy to do over the Web."
The Quick Start Kit is priced at $295.
Quick and easy
Ordering online allowed Angelino to avoid lengthy interactions with salespeople, something she found quite appealing. "Instead of having to deal with someone interested in fostering customer relations, I could just type in what we wanted and where we wanted it shipped, pay for it with a credit card and be done with it," she explains.
Additionally, the combination of search engine and Web shopping "saved me an incredible amount of time," Angelino says. "I found that by using search engines and entering very specific words, I cut down on my research time by weeks."
Visitors to Sealed Air's site can use a framed navigation bar or one of several drop-down menus to select their product of choice. Numerous photos and descriptions, as well as animations and downloadable files, help users visualize how the Instapak would fit into their packaging operations.
According to Angelino, there was never a concern about not seeing the product itself before ordering. In fact, she felt confident about her purchase and adds "the photos and descriptions let us know what to expect."
Overall, Angelino considers her online shopping experience a success, and she wouldn't hesitate to do it again.
Companies in this article