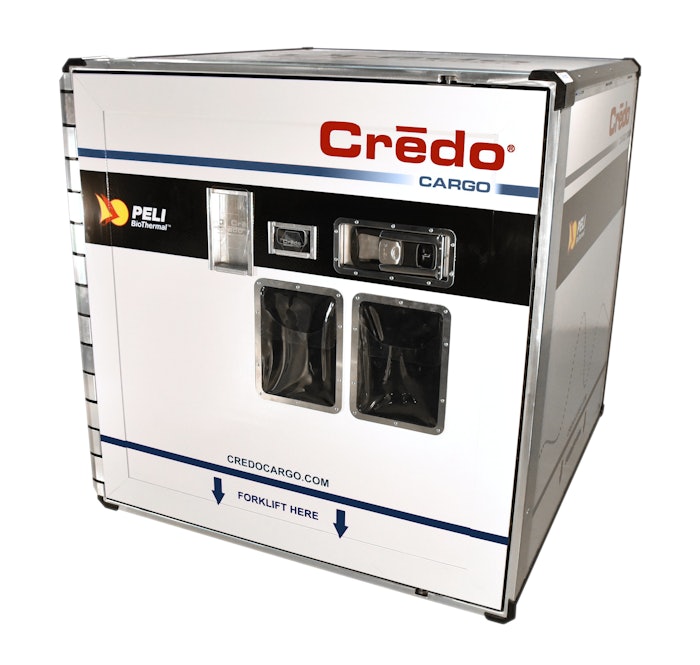 Peli BioThermal launched its new pioneering pallet shipper system, Crēdo TM Cargo, the latest in its range of i temperature-controlled packaging solutions servicing the global market.
The new reusable bulk shipper, designed specifically to accept a full ISO pallet, is set to revolutionize the temperature-controlled packaging passive, bulk shipper marketplace.
Utilizing PCM coolant panel packaging, incorporating slot-in system mechanism designed for rapid loading and unloading, Crēdo Cargo also has a duration in excess of five days.
The new bulk shipper's phase-change material coolants coupled with the unique slot-in components ensures high performance and consistent temperature stability in excess of 140 hours. Its robust design makes it ideal for the rigors of global logistics applications.
With a volume of 1900L and covering temperature ranges +2°C to +8°C, +15°C to +25°C and -20C, Credo Cargo sets new standards in the global, bulk shipper market.
The key benefits of the Crēdo Cargo are:
• Reusable pallet shipper utilizing PCM coolants
• Consistent temperature stability in excess of 140 hours (ISTA 7)
• 1903-liter capacity and pallet accepting design
• Easy to load PCM coolant panels incorporating patent-pending slot in "lock and load" panel design make conditioning easy
• Single door access for ease of loading and unloading
• Lightweight and impact-resistant design to withstand the rigors of global logistics applications
• Designed to be flat packed either for storage or for empty returns to base
• Integral viewing windows to monitor/observe condition of VIP panels
• Quick and easy assembly
Companies in this article