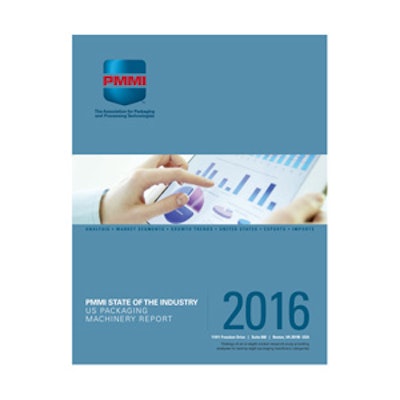 This according to the 2016 PMMI State of the Industry U.S. Packaging Machinery Report.
The labeling/decorating/coding group, and the case handling machinery group are forecast to grow the fastest of all machinery types at CAGRs of 3.9% and 2.5% respectively. The pharmaceuticals sector is forecast to grow the fastest of all sectors to 2020, at a CAGR of 2.8 percent. This is followed by the beverages sector, which is forecast to grow at a CAGR of 2.4 percent.
Download the executive summary today for in-depth findings about shipments by machinery category, end user market segmentation, order backlog, and general economic and packaging machinery trends.
For more information, contact Meredith Luecker, Business Intelligence Assistant, PMMI: mluecker@pmmi.org or 571/612-3205.
Companies in this article