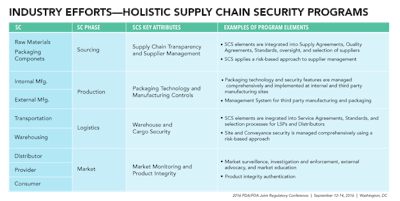 "How many here today work on supply chain security?" the speaker asked the crowd of regulatory professionals. Few hands were raised.
"I would argue that every single person here is working on supply chain security in some way," Brian Johnson, Senior Director, Supply Chain Security for Pfizer, told the PDA/FDA 2016 audience in Washington, DC.
First, a few global up-to-date facts from the Pharmaceutical Security Institute:
• 3,302 criminal breaches in 2015 (up 38% vs 2014)
• 253 incidents in the legitimate supply chain
• Diversion is up 74% (almost a third of the incidents—1,106)
• China is the source of counterfeits 70% of the time
• 29% increase in oncology meds
So the bad news is that reported incidents of substandard drugs, theft and diversion are growing. However, these numbers may be climbing because we are getting better and better at detecting and reporting incidents, according to Johnson.
"This is a horrible crime and it impacts people's lives," said Johnson. "I mean look at cancer. Your loved one takes an oncology drug with no active ingredient…this is dangerous and serious stuff. We need to do everything we can to protect patient safety."
Johnson said there are vulnerabilities throughout the supply chain—from raw materials, active ingredients, excipients, national, regional and smaller wholesalers, hospitals and pharmacies—everyone is a stakeholder.
A key driver, of course, is there is a lot of money to be made, and the risk of getting caught is small, with penalties equating to "a slap on the wrist."
Working against better protection is the complexity of the global supply chain where inconsistent standards and countries with poor regulatory infrastructure aid international criminals.
After counterfeit Heparin (from China) caused 81 deaths in 2008, the industry responded with the formation of Rx360, an international Pharmaceutical Supply Chain Consortium, which preaches a holistic approach to supply chain security programs.
A variety of white papers are available at www.rx-360.com including:
• Holistic Supply Chain Security Programs
• Upstream Supply Chain Security Controls
• Conveyance Risk Management
• Risk Surveillance/assessment of the Market Place
• Audits and Assessments of LSPs
• Risk Mitigation Strategies to Prevent Diversion
• Incident Management
• Risk Mitigation of SC Security Breaches After a Drug Shortage
Companies in this article