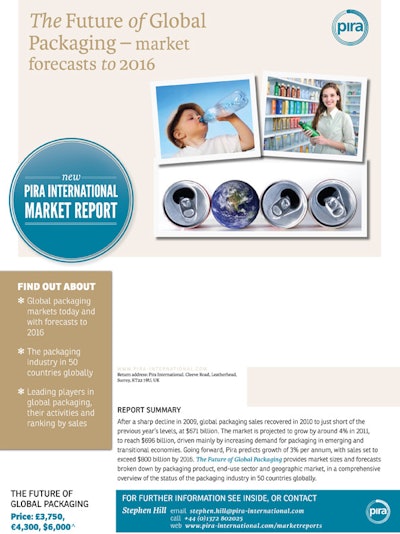 The global packaging market is expected to reach $820 billion by 2016, according to "The Future of Global Packaging to 2016," from Pira Intl.
Driven mainly by increasing demand for packaging in emerging and transitional economies, a 3% annual growth rate will focus on board products and rigid plastics, with $40 billion and $33 billion in cumulative predicted growth respectively to 2016.
Pira says growth will be driven by trends such as growing urbanization, investment in housing and construction, a burgeoning healthcare sector, and the rapid development still evident in the emerging economies, including China, India, Brazil, and some eastern European countries. An increase in personal disposable income in the developing regions fuels consumption across a broad range of products, with consequential growth in demand for the packaging of these goods.
More specifically, robust growth in demand for rigid plastic packaging, especially in sectors like drinks, cosmetics, toiletries, and household and personal care products, is stimulating packaging consumption.
Similarly, flexible plastic packaging materials are receiving a boost from sectors like perishable foods, healthcare, convenience foods and various industrial markets. Corrugated board consumption will rise from demand in processed foods, personal and household care, chemicals, electrical goods, and others. At the same time, folding carton consumption is benefiting from the growth found in healthcare products, electrical goods, and frozen and chilled foods, among others.
According to the Pira, the U.S. was the largest consumer for packaging in 2010 with a demand of $137 billion. China was close behind at $80 billion, and the report anticipates China will surpass the U..S by 2017, and India will enter the top 10 packaging countries with its demand set to almost double in the next five years to $24 billion.
Pira notes that technological developments in packaging will result in increased use of biopolymers in both rigid and flexible applications, adding value to products with functional and barrier coatings, as well as enhanced graphics, and reducing resources consumption through lightweighting across all materials.
Board products account for the biggest sector of the packaging market, totaling some $210 billion in 2010 and maintaining their leading position into 2016 when the sector will be worth $40 billion more at nearly $250 billion.
Rigid plastic is second-largest at over 21%, or $144 billion in 2010, expanding to over $200 billion by 2016, while the flexible packaging market will increase from $130 billion in 2010 to above $163 billion by 2016.
The consumption of metal packaging represented over 15% of the 2010 market, but will be losing market share to competing products, especially rigid plastic, to 14% of the 2016 market, while demand for glass containers is also anticipated to slow down over the medium term, increasing from some $45 billion in 2010 to around $53 billion by 2016.
Pira research shows that food and healthcare packaging will continue to be the biggest end uses in global packaging, with the food and drinks industry growing by almost $43 billion combined to 2016. The study shows that health care packs will grow 4.5% each year to reach a total of $34 billion. Cosmetics packaging should grow 4.2% per year to reach $24 billion.
"The Future of Global Packaging" is available for immediate download, and 10% off of £3750 until January 31, 2012. For more information, contact Bill Allen at +44 (0) 1372 802086, or via e-mail at bill.allen@pira-international.com.