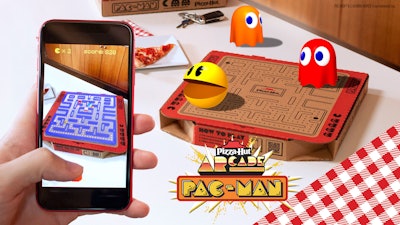 Pizza Hut
Consumer trends are evolving compared to just a few years ago, and package designs are adjusting to keep pace. Emily Safian-Demers, editor at Wunderman Thompson Intelligence, shared at 2022 Luxe Pack New York some notable packaging trends that have risen from shifts in business and consumer priorities in the past year.
Between a new approach to sustainability and a more playful and entertaining approach to packaging, Safian-Demers laid out both a map of packaging's current landscape and a look at what could come next.
Sustainability Reconceptualized
A reduction or elimination of harm to the environment is no longer enough for consumers, according to Safian-Demers. Instead, consumers are pushing for a positive impact through planet regeneration, and many expect businesses to lead the charge.
"According to our research, 84% of people believe that brands and businesses need to drive regeneration or it won't happen," Safian-Demers said, "which for [businesses] is a huge responsibility, but also power to know that people put their trust in you to really drive this meaningful change."
Some brands have responded to this rising demand for sustainability with an increased sense of transparency about their sustainable practices.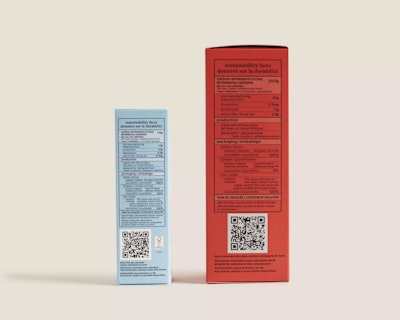 Safian-Demers pointed to Cocokind, noting that in 2021 the skincare brand released new product labels that include sustainability fact panels, similar to the nutrition labels consumers are already familiar with.
The panels detail each product's carbon footprint, sustainability details, and recycling instructions, making that information as directly available as any nutrition label.
Cocokind is far from the only beauty brand offering added transparency in sustainability. Safian-Demers also pointed to the efforts of a coalition of prominent beauty brands, titled the EcoBeautyScore Consortium and made up of Unilever, Henkel, L'Oréal, Natura & Co, LVMH, and several other brands.
Formed in September 2021, the consortium developed a system to track their products' environmental impact and sustainability, and make that information available to consumers.
Safian-Demers also emphasized the view that planetary health and individual health are intertwined, with companies innovating for more accessibility to reach a wider user base.
---
---
She cited Procter & Gamble's November 2021 release of an easy-open lid on several Olay Regenerist moisturizers. They include winged sides and a textured cover for easier grip, as well as braille lettering for those with visual impairments.
Unilever has likewise joined the push for accessible design, offering what Safian-Demers said was the "world's first adaptive deodorant package," designed for Degree deodorant in collaboration with people with disabilities. The deodorant package can be used one-handed, and features a magnetic cap for easy use, as well as braille labeling.
A Lighthearted Approach to Packaging
Some businesses have also adapted to bring a sense of joy and optimism to the consumer. Safian-Demers said this trend combats the common feeling of fear and anxiety brought on by the COVID-19 pandemic and other recent issues.
In the world of packaging, that sense of optimism translates to what Safian-Demers called "playful packaging," or "reimagining their packaging to be a part of play, to commit from trash to toy."
One example of playful packaging came in Pizza Hut's partnership with Pac Man. The company used QR codes and augmented reality technology to transform its physical pizza boxes into virtual game boards.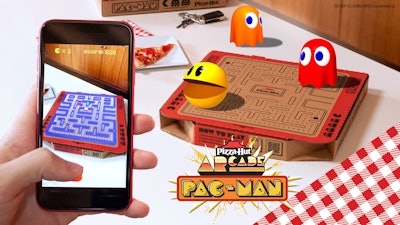 Taking the trend purely into the physical space is a kid's toy brand called Educational Insights. The brand's packaging doubles as a themed playset to compliment the toy inside, Safian-Demers said.
The idea of toy-like, playful packaging can even appeal to a market meant only for adults. Cannabis brand House Plant unveiled a package inspired by toy bricks in April 2022, designed with a sense of playful brand identity and collectibility in mind.
McDonald's has also joined the trend of playful packaging. The company's revamped package design features bright, bold colorways to "reflect the innate joy of the McDonald's dining experience," Safian-Demers said.
"After a really unpredictable, I'll say two years, it's been longer, but 2022 is starting to channel this creative playfulness that symbolizes growth and freedom. And these whimsical, colorful designs are really solidifying that energizing experience," Safian-Demers said.
Safian-Demers' presentation was largely based on Wunderman Thompson's 'Future 100' report, which identifies 100 trends the company predicts for the year ahead. The full report is available on the Wunderman Thompson website.