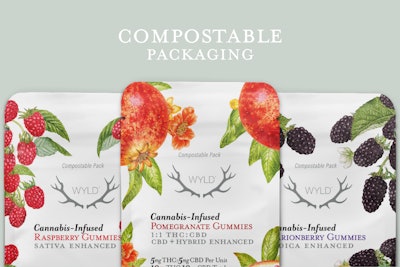 In 2016, Clackamas, Ore.-based edibles brand Wyld was launched to deliver to the cannabis market what its founders felt was lacking: edibles that actually tasted good. Today it offers a range of cannabis-infused gummy selections made with real fruit, such as strawberries, peaches, huckleberries, marionberries, lemons, and others in paperboard packaging beautifully decorated with illustrations of the fruit from which each variety is derived.
---
---
Says the Wyld team, "Our reputation is built by providing trustworthy, repeatable cannabis experiences that consumers can rely on made with high-quality ingredients and consistent dosing. Not only do our gummies have great flavor, but they're also designed and continuously improved upon by our team of food scientists and quality experts."
While the team says its products certainly set the brand apart from its competitors, they add that they are most proud of Wyld's mission to give back to communities, protect the ecosystem, and contribute to progressive change within society. "Most brands can talk the talk, but our commitments and the actions we've taken certainly walk the walk," the team says. "This includes our actions in service to our four Pillars of Commitment: Social and Racial Justice, Health and Wellness, Combatting the Failed War on Drugs, and Environmental Sustainability."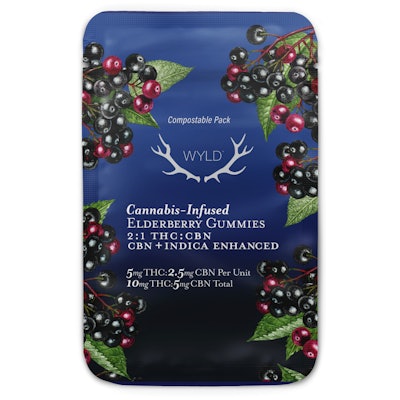 In preparation for the launch of its products in Canada in late 2021, Wyld collaborated with a number of suppliers and manufacturers—all proprietary—to develop a fully compostable pouch, the truly challenging part of which was creating one with a child-resistant feature that was also compostable. Explains the team, the requirement for CR packaging eliminated the use of any preexisting packaging.
"Our pouches needed to be fully compostable, child-resistant, and market-compliant, along with meeting Wyld brand standards," the team says. "Packaging in other industries often starts with brand standards, but because of Wyld's commitment to sustainability and compliance, we worked in the other direction. We began our package design process with the fully compostable and child-resistant/market-compliant requirements."
---
---
While Wyld doesn't name suppliers, it reveals that all of the materials used in its Canadian packaging are certified compostable and biodegradable and are made from renewable resources like bio-based polybutylene succinate, wood pulp, and bio-resins. This includes all adhesives and inks, as well as the CR zipper. "A fully compostable child-resistant zipper is something that was a complete innovation, it had never been done before," says the Wyld team.
The petite, flexible pouch holds two gummies per pack, with all Canadian products packaged in this format, including hybrid-enhanced Huckleberry, Pomegranate 1:1, and Peach varieties, sativa-enhanced Raspberry, and indica-enhanced Marionberry and Elderberry CBN flavors. The pouches are digitally printed on an HP Indigo press and are designed to be fully compliant with the Canadian Cannabis Act's requirements for packaging.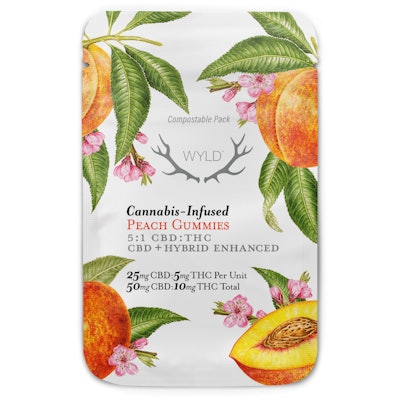 Wyld's edibles are available in seven U.S. states, in addition to Canada, and will soon be sold in an additional five U.S. states. According to the Wyld team, the compostable packaging has been universally well received by Canadian consumers. "Everywhere we go, people are excited, saying things like, 'Why haven't other companies done this?!' The packaging is earning us customer loyalty and is a prominent selling feature in addition to our great-tasting gummies."
In April, Wyld was named as Climate Neutral Certified, becoming the only cannabis edibles brand on the list. Climate Neutral is a non-profit committed to solving climate change by making carbon neutrality simple and accessible by way of the Climate Neutral Certified label, which will now appear on Wyld's packaging.
In the U.S., Wyld shares that it will be transitioning to compostable drams and bottles as well as executing a massive overhaul of its supply chain. Says the team, "By converting to more sustainable packaging, we are able to get one step closer to our goal of net zero emissions."
Companies in this article