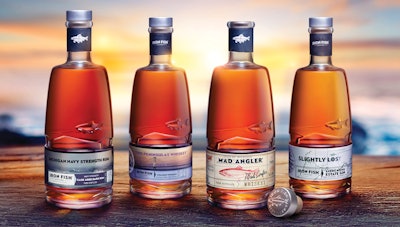 Its new Estate Series range of spirits are made with grain grown on the property, and its bottle's decoration pays homage to the nearby Bestie River and its residents: the eponymous steelhead trout.
When company leadership sought unique packaging for this special series, they partnered with Berlin Packaging's designers at Studio One Eleven. To maintain brand continuity, the design team leveraged the stock bottle shape used for Iron Fish's other products, but made it taller and slenderer for a sleeker, elevated aesthetic. The company's distinct fish logo is sculpted into the bottle, as are debossed fish scales, as premium structural details adding dimension and strengthening the brand equity.
"We wanted our iconic fish mark to be embossed in glass to replicate the die-cut fish mark we have with our other packaging systems," says Jesse Den Herder, Marketing Director, Iron Fish. "This would give the series an elevated look while being consistent with our brand standards."
"Taking inspiration from the core line of products and the scales in the label, we transposed the scales from the label into the bottle. The scales were designed and sculpted in such a way to accommodate molding requirements. In addition to the scales, Iron Fish Distillery has an illustrative logo that was modified for three dimensions, and it was also sculpted into the glass," adds Bradley Wong, Industrial Design Manager, Studio One Eleven. "The bottle required a couple rounds of sampling and modifications to the mold so we could ensure that the definition of the fish would be properly represented in the glass. The goal was for the fish to [appear to] be swimming in the bottle."
The label is a standard pressure sensitive label. The company wanted various elements of the label to have more prominence, so some matte embellishment was used. Navy Strength Rum, Two Peninsulas Whiskey, and Mad Angler varieties use a silver BOPP label with matte lamination, while Slightly Lost Barrell Rested Gin uses a 60# brilliant white classic linen label. These are digitally printed on Artex Label's newest Mouvent digital inkjet press. This new press has an expanded color gamut using a six-color process and white.
For a closure, the bottles use a debossed silver synthetic bartop T-cork from Tapi.
"Our closure was a black matte bottle capsule that covered the top of bottle with dual logos on either side. We wanted our logo to be prominent on the T-cork every time customers re-opened the spirit." Den Herder says.
While the specialty bottles are a departure from the norm, some continuity was still necessary. Iron Fish still wanted to incorporate current brand standards as much as possible by using existing primary and secondary typefaces.
"The challenge was the amount of real estate we had to work with for the label, so we opted for a single wraparound label and maximize every inch," Den Herder says. "The second challenge was our new use of fanciful names for the spirits, so it shifted the personality. For example, Mad Angler or Slightly Lost. We wanted three inches of shelf-facing space on the label to have consistency with all four spirits. Mad Angler is the only version that diverts from the others, as the type[face] layout it was inspired by fishing licenses from the 1940s."
Despite the shape and structural changes to the bottle, it is able to be filled and labeled with existing equipment onsite at the distillery. Launched in Fall 2021, pre-sell commitments for the release among the brand's leading liquor store accounts were a near sell out, requiring Iron Fish to accelerate its next shipping container order. PW

Companies in this article