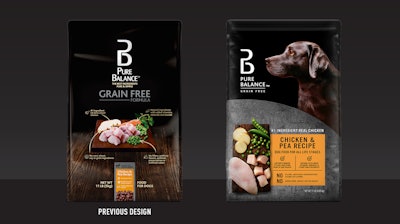 "Pets are people, too." At least that's what recent research, including a report from PMMI Business Intelligence, seems to suggest. According to the report, many of the same trends driving human food packaging, such as sustainability and e-commerce, are also driving pet food packaging developments. This "humanization" of pet food means consumers are looking for the same nutrition and freshness for their pets that they get from their own items in the shopping cart.
---
---
Capitalizing on this trend, Walmart's super-premium, private-label dog and cat food brand, Pure Balance, is made from natural ingredients and, depending on variety, is free from fillers, artificial preservatives, flavors, or colors, does not include soy, corn, wheat, or grain, and includes vitamins, minerals, and other trace elements.
In 2020, global packaging design company Equator redesigned packaging for the brand to evolve its look and feel to reflect the products' high quality and to align it with premium-tier cues. Says Equator's Creative Director, Aaron Funke, the team introduced a host of sharp, characterful photography, such as prominent pet photos to make the packaging more pet-centric and images of ingredients to signal food type, flavor, and ingredients, putting the products' freshness and health benefits front and center.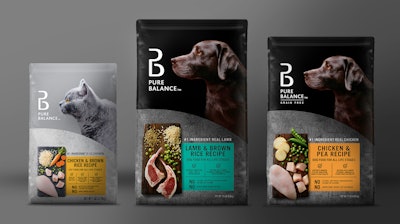 "With a modern look and unified design architecture, the packaging features black [dog] and grey [cat] color palettes, accented with pops of bright color to enable versioning and ease of navigation," says Funke. "Outlining key product benefits and product attributes is a clear claims and benefits system that helps consumers quickly select the right product for their pet."
Between February and July 2021, Walmart rolled out a brand extension to Pure Balance, called PRO+, formulated to address the needs of cats and dogs according to their size, life stage, or specific health condition. There are four SKUs for cats, five for dogs.
For the extension, Walmart wanted packaging that would maintain the core integrity of the Pure Balance line, highlighting the emphasis the brand places on real ingredients and real value for consumers, while communicating PRO+'s points of differentiation. Elements retained from the existing Pure Balance packaging design include the use of black and grey, as well as the pack architecture.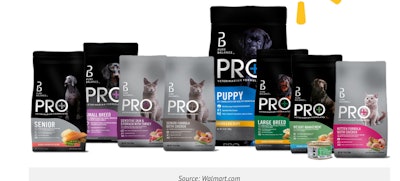 "We carried forward foundational equities, such as font styles and photography styles, so that consumers could swiftly link the new range with the positive brand associations belonging to Pure Balance, and it would connect back with Pure Balance's unique selling point of providing real food and real ingredients," says Funke. "But we also wanted to give the new product range its own identity, drawing attention to the fact that these products offer new and compelling nutritional benefits and are targeted toward specific groupings of canine/feline and dietary requirements.
"This sub-brand is benefit-led, a bit like health and wellness crossover products for humans, such as vitamin-fortified water, are benefit-led. For those customers who have bought these products for themselves, navigating these pet food varieties may feel somewhat familiar. With the dog food varieties, for example, there are Large Breed, Small Breed, Puppy, Senior Dog, and Weight Management formulas. So for ease of navigation, we established corresponding colors based on the benefit of the food, rather than its taste profile, as had been done in Pure Balance. Also to differentiate it from the parent brand, the animal's face is seen straight on, rather than in profile, and the ingredients are pictured smaller and positioned to the side to bring more attention to the health benefit callouts. In these ways, the elements work together to prioritize benefit while giving the flavor profile lesser prominence."
---
Since the release, a number of consumers have voiced their approval of the packaging via Walmart.com. Comments include, "I really like the packaging. It's sleek, and I love the colors," "There is a lot of useful information on the back of the packaging, including a chart of how to mix in this dog food at certain percentages over time… . I thought that was very helpful of the manufacturer to put that on the packaging," and "It is well packaged and extremely fresh, not to mention the packaging is very professional and jumps out on you at shelf."
For her part, Liz Ramirez, Product Development at Walmart congratulates the Equator team for the beautiful design. "This is such an important and growing category for our pet parents," she says. "Way to make a difference!"
---
Companies in this article