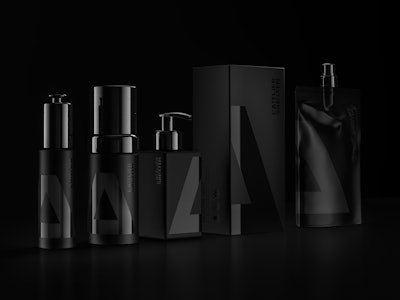 Conceptualized in 2019 by Antoine Rouvroy, L'Atelier Shelter is a new startup brand that is 100% dedicated to men's beard, skin, and grooming routines. Before launching the brand, Rouvroy had a long history of distributing grooming products. Perceiving a lack of options in the market, he took matters into his own hands to craft the perfect product range and challenge the world of cosmetics.
Entirely natural and vegan, the brand consists of an extensive range of products across different collections such as shaving gels, face and beard moisturizers, beard foam washes, beard cleanser, and oils, shampoos, etc.
---
---
According to packaging design agency Appartement 103, which did the branding for L'Atelier Shelter, the men's grooming brand is strongly committed to offering the best that mother nature has to offer, with no compromise on quality and with a heavy sustainable commitment. "Made in France" is also placed at the core of the brand, with French suppliers having joined together to create the product line (laboratory, packaging suppliers, production line, design agency, etc.).
In creating the packaging for L'Atelier Shelter, Appartement 103 wanted to present a grooming product brand that could challenge the established brands through craftsmanship cues. L'Atelier Shelter becomes the first free-spirited grooming brand, conveying "an unchartered, mysterious, and creative mindset, boasted by a modern look," says Appartement 103.

For the graphics, Appartement 103 focused on a simplified but powerful visual brand identity. "As a new world to enter, the L'Atelier Shelter icon is the mysterious symbol of the tribe's membership," says the agency. "The full matte black identity subtly revealed through varnish stampings holds a particular mystery surrounding the brand, attracting consumers to unleash their curiosity and discover the beautiful world of L'Atelier Shelter through hidden illustrations and messages."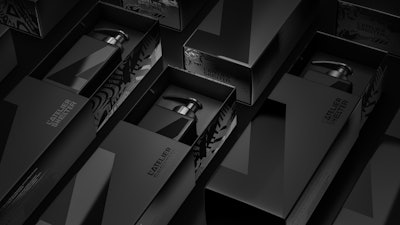 Also pushing the company's sustainability commitment, Appartement 103 ensured that the packaging lifecycle was as sustainable as possible, using recycled cartons, unglued folded boxes, and glass bottles. Taking sustainability a step further, it created a refill system, with product available in pouches, allowing the bottles to be reused.
Says the brand, "We were looking for an agency capable of disrupting the market codes in which we've been operating, with the ultimate objective to reinvent the grooming experience. This gamble has largely been won by the entire Appartement 103 team, combining high standards with a modern and trendy brand vision."
Companies in this article