New Culture POP Soda is crafted with real, functional ingredients and only a touch of sweetness. Its mix of live probiotics, organic juices, and organic ground spices delivers a complex, tasty twist on familiar flavors. Culture POP, says its producers, is a soda you can feel good about.
When independent creative agency, ROOK/NYC, first started working on Culture POP Soda, the product brief was simple: create a brand and package design for a new-to-market functional soda that feels familiar, with subtle nuances, and drives consumer trial in the natural and mass retail channels.
---
Here's another soda packaging design story that might whet your whistle. Read here to learn how U.K. craft soda company Dalston's created boombox-inspired shippers for its online sales during COVID-19 that pay homage to its music roots, while introducing new consumers to the brands' values and personality
---
As for the naming exercise, the team wanted something that was both descriptive and felt familiar. In an off-the-cuff ideation session, the moniker fell in place—a highly recognizable, albeit transposed, term that coincidentally described the product itself in two words: Culture (probiotic) POP (soda).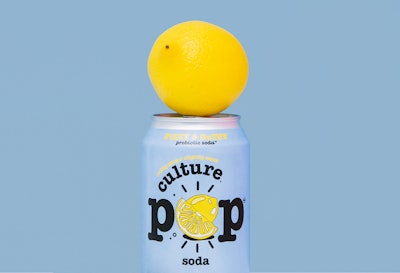 Mark Christou, founder and Creative Partner of ROOK/NYC is the lead designer behind the project. The team worked with illustrator Marianna Fierro to create bold fruit illustrations; these replaced the "o" of pop to signify the dominant (and most familiar) ingredient in each SKU.
While ROOK/NYC was working on the design process to create a product that would catch the consumer's attention, they implemented a thoughtful and simplistic brand architecture and visual language. From the ever-familiar American Typewriter font, to prominently featuring familiar ingredients over the less-familiar, to selecting colors that are drinkable and on-trend, they created a system of design cues that nod to both the function and nostalgia of the product, with a modern twist.
---
Do you use aluminum packaging? Find out how supply chain issues with aluminum, steel, and tin cans are ramping up as COVID-19 changes buying patterns, resulting in a trickle-down effect on product offerings and time-to-market. See the story here.
---
Says Culture POP Soda founder Tom First, "The work that ROOK/NYC did to develop our identity and our packaging, is beyond what I could have hoped for. It both reflects exactly what's inside our can, and the personality and emotion that we sought for our product and company. Because of the strength of our packaging, we've been able to accomplish things in eight months that often take companies years to accomplish."
Flavors include Ginger Lemon & Turmeric, Orange Mango & Chili, Wild Berries with Basil & Lime, Watermelon Lime & Rosemary, and Pink Grapefruit Ginger & Juniper. Culture POP is available in select stores across the U.S., mostly in the Northeast.