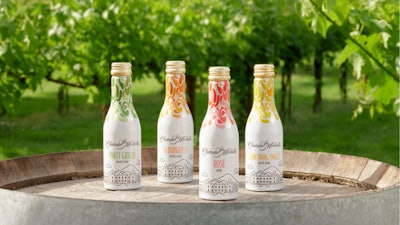 Featuring design elements that cue heritage and sophistication, but with a playful, contemporary twist, a new 250-mL aluminum bottle for four fruit-driven wine blends from Chateau Ste. Michelle was rolled out by the Woodinville, Wash., winery in July 2020. Founded in 1912, Chateau Ste. Michelle was the first winery in Washington and operates from a stately French-style winery Chateau that sits in the shadow of Mt. Rainier—aspects of its business that are depicted in the cottle's graphics.
The new wine line is the first from Chateau Ste. Michelle to be packaged in smaller-serve aluminum bottles with resealable closures. The four varieties are sourced from its vineyards in Washington's Columbia Valley and include a pale pink Rosé with ripe strawberry flavors, a crisp, refreshing Pinot Grigio with bright citrus characters, the Something Sweet White Blend, with peach and melon flavors, and an effervescent Bubbly variety, with apple and anise aromas.
---
See it Live at PACK EXPO Connects Nov. 9-13: Want to learn more about innovations in packaging materials and containers? Join us at PACK EXPO Connects to hear from a range of suppliers. Preview the Showroom Here.
---
Says Grant Grieg, Marketing Director for Chateau Ste. Michelle, the winery chose the 250-mL aluminum bottle format to appeal to consumers looking for convenience and smaller serving options. He adds, "The wine delivers the same quality winemaking our customers expect from Chateau Ste. Michelle in a package that is ideal for every occasion. These wines are your Chateau on-the-go."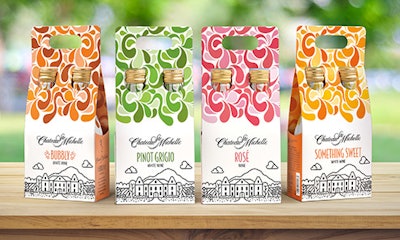 The mini Burgundy-style bottles from Trivium Packaging have a clean white background, with a "whimsical" line drawing of the winery's iconic Chateau, set against Mt. Rainier. Above the sketch is the name of the variety, in a contemporary typeface and a flavor-specific color. Above that is the Chateau Ste. Michelle logo, in an elegant, script font. The neck of each bottle features a modern swirl design, with a different color palette used for each flavor. A gold, twist-off closure tops the cottle.
Shares Chateau Ste. Michelle's lead creative designer, Stacey Neumiller, "I love that each bottle is playful with a bright pop of color. We wanted to modernize the Chateau and bring it to life with a simple and clean illustration. We also wanted to add Mt. Rainier in the background because we can actually see it from the Chateau on a clear day. Perhaps my favorite thing about the packaging is the fun surprise on the side of each bottle. Look for the moon on the Something Sweet White Blend, a plane on the Pinot Grigio, a kite on the Bubbly, and a hot air balloon on the Rosé. It was fun figuring out clever ways to make the packaging playful and bright."
Companies in this article