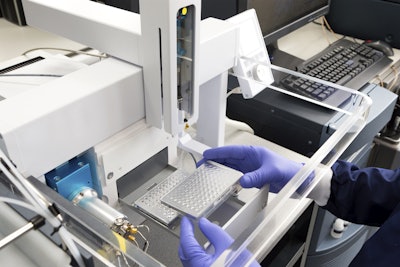 The rising prevalence of chronic diseases, increases in disability-adjusted life years, advances in medical devices, an aging population, and emerging markets represent key reasons for growth of medical device technologies, such as in-vitro diagnostics (IVDs). Yet, uncertainty in reimbursement and the excise tax on medical devices in the U.S. restrain market growth.
That's according to a MarketsAndMarkets report on the global top 10 medical device technologies market. MarketsAndMarkets expects growth in the global top 10 medical device technologies market to reach US$428.97 billion by 2020, at a CAGR of 5.5% from 2015 to 2020.
The report segments the market into in vitro diagnostics (IVD) devices, cardiology devices, diagnostic imaging devices, orthopedic devices, ophthalmology devices, endoscopy devices, diabetes care devices, wound management devices, kidney/dialysis devices, and anesthesia & respiratory care devices. The IVD devices segment accounted for the largest share of approximately 17.1% of the top 10 medical device technologies market, owing to the increase in the prevalence of diabetes, cardiovascular diseases, and cancer.
The report identifies key players in this market as Johnson & Johnson (U.S.), GE Healthcare (U.K.), Siemens Healthcare (Germany), Medtronic (U.S.), Philips Healthcare (Netherlands), Roche Diagnostics (Switzerland), Abbott Laboratories Inc. (U.S.), Smith & Nephew plc (U.K.), Stryker (U.S.), and Boston Scientific (U.S.).
IVDs, as defined by the U.S. Food and Drug Administration, are "those reagents, instruments, and systems intended for use in diagnosis of disease or other conditions, including a determination of the state of health, in order to cure, mitigate, treat, or prevent disease or its sequelae [aftereffect or secondary result]. Such products are intended for use in the collection, preparation, and examination of specimens taken from the human body."
IVD testing is classified into three main types, according to EDMA Diagnostics For Health: Clinical laboratory, near-patient testing by healthcare pros, and self-testing. Product types include reagents, analytical instruments, and accessory products.
Global markets
BCC Research's report, "In Vitro Diagnostics: Technologies and Global Markets" forecasts the global IVD products market to rise at a compound annual growth rate (CAGR) of 6.1% between 2015 and 2020, reaching $81.1 billion by 2020.
An Evaluate Group report predicts the global medtech market will reach $477 billion by 2020. By then, the worldwide medical device market will be worth $514 billion, predicts Evaluate.
Industry consolidation is slowing the sector's growth rate, says Evaluate. However, it notes, "One area within medtech above all else is defying this….IVDs [are] "predicted to become by far the largest segment in 2020, with sales of $71.6 billion."
Kalorama Information's, "The World Market for Molecular Diagnostics, 6th Edition," says that infectious diseases represent 47% of molecular diagnostic sales. A Blackbird PR News story quotes Kalorama Lead IVD Analyst Shara Rosen, R.T., MBA, as saying, "All too often patients have been given antibiotics when not required. This has contributed to the present problem of bacterial antibiotic resistance. It can be argued that efficient rapid tests in hospitals, clinics, physician offices and other care sites would have solved many issues related to infectious disease."
Kalorama's report examines fast-growing and critical areas of clinical diagnostics, growth opportunities, global markets, and allows site visitors to search inside the 2,100-page report.
U.S. IVD market research
IVD development policies and plans, as well as manufacturing processes and bill of materials cost structures are analyzed in Reportstack's "United States IVD Products Industry 2015 Market Research Report."
The report provides a basic overview of the industry including definitions, classifications, applications and industry chain structure. The IVD Products market analysis is provided for the United States markets including development trends, competitive landscape analysis, and key regions development status. Reportstack's report also focuses on U.S. major leading industry company profiles, product picture and specification, capacity, production, price, cost, revenue and contact information. Products industry development trends and marketing channels are analyzed, along with the feasibility of new investment projects are assessed and overall research conclusions offered.
BRIC countries
"The IVD market of BRIC economies is expected to witness immense growth opportunities due to increased healthcare budgets, increased number of hospitals and technological advancement," says Transparency Market Research (TMR) in its "BRIC In-Vitro Diagnostics IVD) Market—Global Industry Analysis, Size, Share, Growth, Trends and Forecast 2012-2018."
TMR adds, "Moreover, BRICS is viewed as one of the attractive markets for MNCs concerned with healthcare sector due to the increasing awareness among consumers and large untapped population. Therefore, heavy investments are being made to expand market shares in these areas. However, absence of strict regulations in respect to the patient's safety is considered as a hurdle for the growth of IVD market, to a certain extent."
Saying, "The BRICS IVD market is expected to have a healthy growth rate," the TMR report dives into application segments that include Molecular diagnostics, Clinical Chemistry, Microbiology, Immunology, Hemostasis, Cytology, Cardiac markers, Hormones/marking tumors and Hematology. "Clinical chemistry is expected to lead in terms of market size among all the other segments and molecular diagnostics is expected to witness highest growth rate during the forecast period. Among the BRICS nations, China is forecasted to account for a larger share of the IVD market followed by Brazil, Russia and India."
Another perspective on the IVD market comes from a report from Literated (https://literated.com/industry/In-Vitro-Diagnostics). It says, "In the developed countries [as the countries are] facing major financial crisis and thus having deep cuts in the healthcare budgets with limited reimbursements provided in the clinical testing and the newly introduced tests in the market. These factors have hampered, to a certain extent, the growth of the IVD industry in these economies.
IVD market in China, Asia
Looking at IVD markets in Asia, MarketResearch.com says, "In order to strengthen innovation and competitiveness, some IVD companies are casting their nets to developing and emerging markets."
A Sept. 15, 2015 blog post gives an overview of IVD markets in China, Vietnam, and Singapore. Among its findings were the following:
• China's IVD market was estimated to be worth $2,190 million in 2014 and is expected to grow to $4,235 million by 2019. "China has the world's second-largest economy; however, China's economic growth rate has decreased in recent years and is expected to continue to decline in the next five years. Large international IVD companies are already operating in China, and a significant number of domestic Chinese IVD companies are active as well."
• Citing Kalorama Information, a MarketResearch blog says Vietnam's IVD market is an estimated $61.4 million, and is expected to grow to $80.5 million by 2019. The blog notes, "Compared to its neighbors, Vietnam has also exhibited fast economic growth in recent years. Its economy has grown from $33 billion in 2000 to $205 billion in 2015. Top-tier IVD companies including Roche and Siemens have been in Vietnam for the past 20 years, while other players have just arrived in the last five years."
• Singapore's IVD market is estimated at $89 million, says the blog. "A highly competitive in-vitro market exists in Singapore, and many of the leading global companies in the industry are active in Singapore." Quoting its company's "IVD in Singapore and Malysia" report, "Singapore offers healthy prospects and significant clinical demand for the IVD industry."