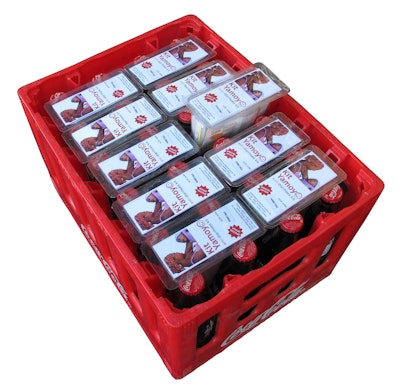 The 1960s-era Coca-Cola advertising slogan, "Things go better with Coke," never referred to anti-diarrhea kits (ADKs), but that's precisely what crates of the beverages are carrying for ColaLife in an innovative distribution trial in Africa.
At its Web site, which offers a video demonstration of the Kit Yamoyo package, ColaLife explains, "ColaLife is working in developing countries to bring Coca-Cola, its bottlers and others together to save children's lives by opening the distribution channels which Coca-Cola uses, to enable 'social products' such as oral rehydration salts and zinc supplements to use similar routes. ColaLife started as an online 'movement' in April 2008, and became an independent U.K. charity in 2011. "
ColaLife is an independent nonprofit organization run and staffed by volunteers. The organization notes, "You can buy a Coca-Cola virtually anywhere in developing countries but in these same places, one in nine children die before their 5th birthday from simple preventable causes like dehydration from diarrhea. That's more than 16 times the average for developed regions (1 in 152).
"We have more than 10,000 online supporters and these have given us the power to engage Coca-Cola, UNICEF, and other key stakeholders. We are now running a locally determined adaptation of the ColaLife concept, as our first trial, in Zambia—The ColaLife Operational Trial Zambia (COTZ)."
The COTZ trial involves the AidPod anti-diarrhea kit. If the trial is successful, it could be used globally for other medical kits. ColaLife worked with pi global to create a robust container to carry simple medicines. It had to be small enough to only occupy the unused space between Coca-Cola bottles in crates, yet large enough to fit a large enough dose of the essential medicines. They also had to ensure that they kept to strict medical guidelines set by the Pharmaceutical Regulatory Authority of Zambia.
The structural team at pi created a patented wedge shape vacuum-formed container made of 80% rPET (recycled PET.) A consortium was formed between the following packaging suppliers:
• Charpak for bulk manufacturing of the container and lid
• Amcor Flexibles for the transparent film to seal the AidPod
• Packaging Automation Ltd. for the machinery that heat-seals the film to the AidPod
According to pi global, "All branding and instructions are in a leaflet slotted into the kit package's lid. This means that the plastic remains clear thus rendering it potentially suitable for SODIS (solar water disinfection.) The AidPod is also used as a measuring jug so that the Oral Rehydration Salts are mixed directly into it so the measurements are correct and most effective. It will be the first container in Zambia offering customers the ability to make up an individual required dose rather than a minimum of one liter of bulk fluid. The lid prevents contamination and allows the mixture to be fully dissolved via shaking while also used as a cup."
Chris Griffin, pi global's Chief Operating Officer, credits ColaLife's founder and CEO Simon Berry and business development director Jane Berry for providing "this amazing concept for getting medication to rural areas piggy-backing on what they call 'the last mile' of the Coca-Cola distribution system. Our role was to take this idea and make it real. It wasn't about making a lovely looking piece of packaging to attract consumers, but instead a functional and sturdy container to deliver this medication safely. The AidPod is the result, a simple, well-constructed rPET container that will help parents in developing countries protect their families from easily treated diseases. ColaLife has been a truly exciting project for us to work on, and we can't wait to see the fantastic results it will deliver in the future.'
Jane Berry comments: 'When we asked Coca-Cola how they reached rural areas, they said: 'We don't—it's the pull of the brand.' Besides harnessing the unused space in a crate, this is what we've tried to learn from. We aimed to make 'Kit Yamoyo' attractive, affordable, and desirable so people want it. Pi global has helped us make it also useful, robust, and practical. We have some of the world's biggest brands watching and learning: UNICEF and WHO, as well as Coca-Cola, SABMiller, and Johnson & Johnson. It's going to be interesting!"
Reportedly, independent rural retailers are also purchasing Kit Yamoyo's in a multipack box.
Recently, ColaLife's Kit Yamoyo won the Product Design of the Year 2013 from The Design Museum.
Companies in this article