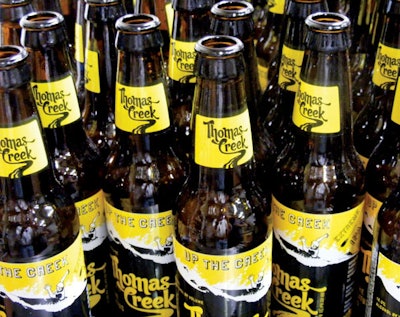 Greenville, SC's Thomas Creek Brewery LLC is raising a glass to the success of its latest bottled microbrew, Up the Creek Extreme IPA (India Pale Ale). According to company sales and marketing director Katie Barnes, "so far, it is the most talked-about beer from Thomas Creek in its 11 years."
In June, the pioneering family-owned brewery, whose taglines include "Don't be typical" and "Sink the status quo," became the first bottler to employ a new printing-ink process from Hartness Inks™ to decorate its Up the Creek brew bottle. The proprietary ink technology, Uvaclear™, is positioned as a more environmentally friendly and economical alternative to ACL (Applied Color Label) printing and is also said to provide greater design flexibility and shelf impact.
Barnes surmises that the popularity of Up the Creek, "which retailers said they had trouble keeping in stock the first week it launched," stems from several factors. "The labels are very unique and provide a premium appearance," she says. "Additionally, the beer is available in a four-pack, so it's a bit more of a specialty item, and the beer itself is a very sought-after style of beer."
Brewery pilots quick-curing ink
Under development by Hartness for 10 years, Uvaclear is a printing-ink system that uses a single-component, UV-curable ink that is formulated using heavy metal-free pigments. Inks are applied using a high-speed screen-printing process, after which they are "instantly" cured and dried. The resulting bottles are easily recyclable at end of use, with the ink burning off during the recycling process.
The Uvaclear system was formally introduced in spring 1998, but its adoption has been slow. "The market is slow to change," says Cindy Fruth, Hartness Inks commercial director. "Most customers did not want to be the first to change. Another challenge was that UV inks have been in the market for several years, but have not been successful. Customers were skeptical that we had overcome the typical issues experienced with UV-curable inks, such as durability concerns. The technology had to be proven."
Local to Hartness Ink's Greenville production facility, Thomas Creek proved an ideal early adopter of the technology, Fruth notes. "They had talked to us about launching a new product, and they wanted a premium look on the bottle," she says. "Since they were in our backyard, it was easy for us to work closely with them to get the look they wanted."
Thomas Creek's products are packed in either 15.5- or 5-gal kegs or in 12-oz amber longneck glass bottles with glue-applied paper labels. The company produces seven year-round beer varieties and four seasonal flavors. For the launch of its year-round Up the Creek high alcohol-content bottled product, it tested the waters of Uvaclear. "We are happy to try something new," says Barnes.
System offers 'limitless' design possibilities
Package graphics for Up the Creek were designed by The Bounce Agency and include the iconic Thomas Creek logotype along with an illustration of a kayaker who's clearly "without a paddle." The direct-print label uses a yellow Pantone PMS colors specific to Thomas Creek along with a black background. White ink is used on the creek graphic and for label type. Bounce provided Hartness with the label artwork, which was then separated, and screens were produced for each layer.
For Uvaclear printing, Hartness offers four-color process on a six-color SD6000 UV screen-printing press from Kammann Machines. Hartness installed the press at its facility to accommodate small-volume runs for test markets. Ultimately, the company plans to sell the ink to its customers, along with print-line integration services.
For now, undecorated bottles are sent to Hartness, which first flame-treats the glass to remove cold-end coatings applied at the glass house. Next, a proprietary prewash developed by Hartness is applied to the bottles to add lubricity and to optimize ink adhesion. Bottles are then fed into the screen-printing press, where ink is applied directly to the glass surface, and each color is exposed to UV light, curing within 0.25 sec. INX Intl. is the toll manufacturer for the Uvaclear inks.
Advantages of Uvaclear versus ACL are many, according to Hartness. The ACL process requires an investment in both a lehr and a printing press, takes from one to two hours to cure at 1100ºF, is limited to 12 to 14 colors, and cannot accommodate special colors. In contrast, Hartness says, the Uvaclear system requires a press only, cures in 0.25 sec at ambient temperatures, allows for a maximum of eight colors with the ability for four-color process, and offers an unlimited color range. Notes Barnes of Up the Creek's graphics, "There were no limitations and no restrictions."
Direct-print bottles grab consumer attention
At Thomas Creek's facility, the new Uvaclear bottles run seamlessly on the company's existing filling line. The only drawback, as Barnes explains, is that when Thomas Creek receives the empty, unlabeled bottles from the glass supplier, they are palletized in such a way that they are crush-resistant. Because Hartness does not have the ability to repack the bottles in the same manner after they are printed, Thomas Creek decided to unpack the pallets upon receipt of the unlabeled bottles and repack them in six-pack cartons for delivery to Hartness. "Logistically, it would be a little easier if the bottles could be packed back onto the pallet by Hartness, since this method results in having to handle the bottles more times than is necessary," Barnes notes.
Fruth explains that for future installations at customer plants, Hartness working with its Hartness Automation business to modify the line to accommodate bulk-in/ bulk-out.
As for package quality, Barnes praises Uvaclear's durability. Not only does the direct-print method eliminate the need to spot check label placement at the end of a packaging run, but it also ensures that the package retains its graphics, even after a lot of handling or exposure to moist conditions, she says. "At some point, the bottle could become a collector's item," she adds, "because the graphics will never fade."
While the cost of Uvaclear is a bit higher than for Thomas Creek's glue-applied labels, Barnes says that "the marketing of the Uvaclear will have a larger impact and will be cost-effective in the long run because it is such a unique package."
Up the Creek was introduced in June and since then has been "flying off the shelves," Barnes says. "People love the product, and we are very pleased with the package. It's something very new and different, and we are happy to be the first."
Companies in this article