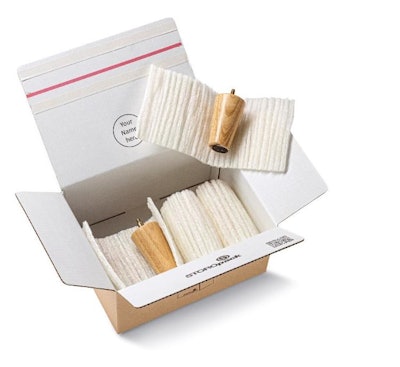 Storopack's RENATURE Wrap is a sustainable alternative to traditional bubble wrapping and rolled foam made from PE. It is available as perforated or individual sheets to simplify both storage and access directly at the packing station.
The starch-based solution is also dust-free and easy to handle. The protective packaging can be used for any protective applications, including product wrapping and cushioning, void filling in the box, and surface protection for especially sensitive goods. Items are reliably protected from shocks, scratches, and damage during transport. RENATURE Wrap is now available in the United States.
In combination with Storopack system integrations, it is also possible to cut the sheets to size individually using the non-perforated offering. Due to the properties of the starch raw material, the cushions can easily be laminated or adhered to each other with just a little moisture. No additional adhesive tape or adhesive is required, which means even less resource consumption and also cost-saving.
Companies in this article