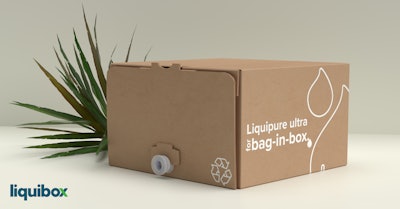 Liquibox's recycle-ready packaging uses advanced resin technology that is ultra-strong to provide reliable product protection, and yet sustainably simple, as the company calls it, to meet recyclability guidelines.
Driven by its company purpose to create a more sustainable future and bring new innovation to the market, Liquibox designed bag-in-box film that would meet guidelines set out by the most influential voices in sustainable packaging such as the Ellen MacArthur Foundation, CEFLEX, and the Association of Plastics Recyclers. Liquipure ultra not only improves recyclability – the mono-material structure also offers other sustainability benefits such as a 22% reduction in greenhouse gas emissions when compared to traditional beverage bag-in-box bags.
The packaging also checks the box for performance, as Liquipure ultra boasts a higher barrier than alternative nylon structures, allowing customers to extend the shelf life of their products. It meets the mechanical performance standards for beverage bag-in-box packaging, making it ideal for retail, food service, or e-commerce use.

Companies in this article