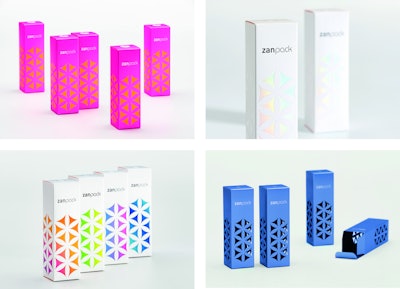 These are particularly suitable for cosmetics and pharmaceutical packaging as well as for premium quality confectionery, food and beverages, and non-food items. In common with the previous grammages from 180 gsm, the high basis weights also have an exceptionally smooth and silky surface with an attractive appearance and a pleasant feel.
Zanpack silk features a smooth surface, is silky to the touch, and presents an attractive appearance. The quality includes one-side, double-coated versions with functional reverse side treatment in grammages from 180 to 450 gsm. In addition to cosmetic and pharmaceutical products, these qualities are equally well-suited to confectionary, food and beverages and tobacco packaging as well as non-food items and graphic applications.
Zanpack silk² is a two-side, double-coated quality yielding a silky feel and identical printing results on the front and back. In this way, high-quality products especially, will benefit from an impressive outward appearance matched by perfection on the inside during opening. The quality is available in grammages from 240 to 560 gsm.
Zanpack touch with its uncoated surface provides a pleasant, naturally-grainier feel. This makes it particularly suitable for brands that need to emphasize their ecological orientation. Zanpack touch is available in grammages from 240 to 340 gsm. The "Zanpack touch" perfume packaging was selected last year by Lürzer's Archive as one of the 200 best packaging designs worldwide ("200 Best Packaging Design Worldwide 2017/18"): The packaging design plays with the contrast of the shimmering color effect of the transparent hot foil with the tactile influence of the naturally-grainy Zanpack touch.
Zanpack silk digital represents the digital printing quality in the range. Its impressively noticeable smooth, silky-matt surface provides the ideal basis for superb toner adhesion in a short time and achieves, in combination with its high-purity whiteness, an excellent print image. Zanpack silk digital is available in grammages of 220, 240 and 275 gsm.
Zanpack tinted board is a gray solid-colored pulp board with a dark blue back and a white double-coated front. The quality is available in 265 gsm.
Companies in this article