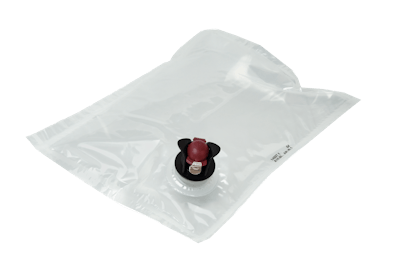 DS Smith, Rapak's new wine bag is an 'active packaging' system comprised of the ShelfPlus® oxygen scavenger, Rapak ultra-high barrier custom designed 9-layer film, and Worldwide Dispenser's ultra-high barrier Mustang wine tap.
DS Smith, Rapak's new oxygen scavenger wine bags are patent pending. They are available in 1.5L, 3L, 5L and custom sizes.
DS Smith, Rapak partnered with Albis Plastic - manufacturer of the ShelfPlus® O2 scavenger.
Test results:
Various rigorous tests conducted on a 1.5L Oxygen Scavenging bags during a 12-month period with the following exceptional shelf-life results:
"Opened" Bag-in-Box
White: 26-week shelf life
Red: 32-week shelf life
Un-opened Bag-in-Box
White: 9-month shelf life
Red: 12-month shelf life
Opened BIB Test: We tapped a box of white and red wine, sampling every few weeks to measure the concentration of free SO2.
Unopened BIB Test: We tapped a brand-new box of each wine at one, six, nine, and 12 months.
The first impressive result is that despite tapping the BIB in week one, we maintained a shelf-life of the wine for 6 months and beyond. This is much longer than what is common and indicative of the superior oxygen barrier and oxygen scavenging properties of the bag.
The second impressive result is that we achieved a 9 month and 12-month shelf-life on a small format package. This is very good performance for a 1.5L size.
Testing process:
The method used is Ripper Titration which measures the concentration of free SO2.
The main test variable measured is free sulphite concentration. As oxygen enters a bag it reacts with the free sulfite and sulfite decreases in concentration. The free sulfite decay is what wine makers measure to determine the shelf-life of the product, along with taste, color, aroma, etc. Wine makers are comfortable that wines are still well preserved up to a 10ppm concentration of free SO2 and this value was our cut-off point during testing.
How an oxygen scavenger works?
The Oxygen scavenger consumes head space and dissolved oxygen that is solubilized in the wine, extending the shelf life of the wine by delaying oxidation reactions. This allows the free SO2 to protect the wine for several additional months.
Companies in this article