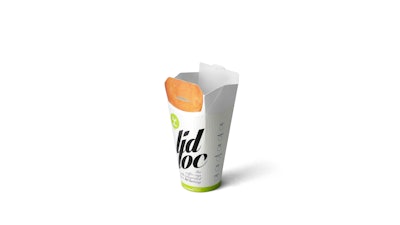 Metsä Board, part of Metsä Group, presented a new paperboard cup design concept called Lidloc at the Packaging Innovations Exhibition held in Birmingham, United Kingdom in March. The Lidloc patented design is based on an extension to a standard cup structure that folds and locks into an integrated lid. This design completely removes the need for a separate plastic lid, and it will re-invent how paperboard cups are produced, consumed and recycled.
Cyril Drouet, Metsä Board's Design & Innovation Director worked closely on this project with his design team.
"We have designed this to be a one-piece construction that removes the need for a separate plastic lid. It is easy to fold and assemble with a secure lid-locking design. The integrated lid is spill proof and offers extra branding power as it can be printed as one piece with the rest of the cup. The lid also contains an integrated 'sip' mechanism for hot beverages as well as being ideal for cold drinks with a straw," Drouet says. 
Lidloc is an example of how Metsä Board is supporting customers to enhance their brands by delivering sustainable and innovative packaging solutions. All Metsä Board's paperboards are made from a renewable resource—fresh fibers. The fibers are of known origin and they help ensure purity and brightness of appearance.
Companies in this article