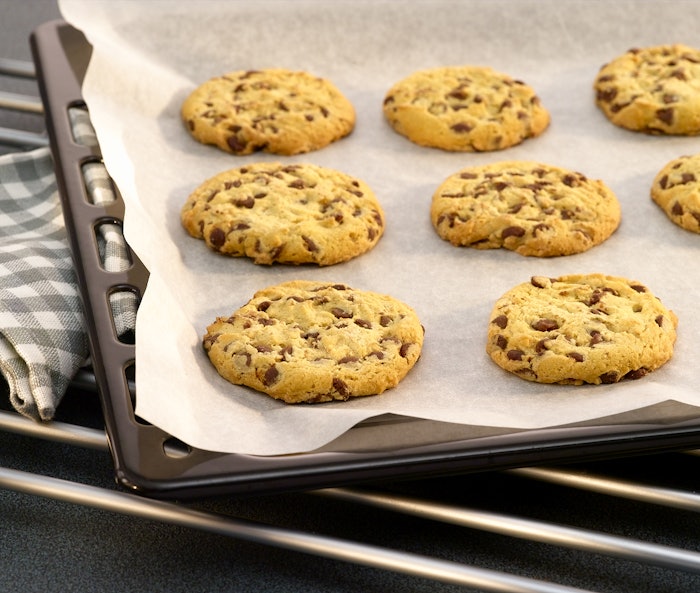 The new emulsion is formulated for coating papers used in commercial and consumer baking and cooking and leverages advanced silicone technology for easy, clean release performance and outstanding water repellency at low coating weights down to 0.20 g/m.. Dow Corning's expanding family of silicone emulsion coatings for in-line and off-line paper processing was designed to meet growing food industry demand for greater cost reductions, productivity and sustainability.
Dow Corning's Syl-Off EM 7978 Coating technology can enable release paper manufacturers to take advantage of several global trends, including:
• Growth in the fast food market – Syl-Off EM 7978 Coating provides premium-release and water repellency performance for bakery and food release papers, a high-growth market opportunity.
• Cost efficiencies – To support cost reduction, Syl-Off EM 7978 Coating is effective at thinner coating weights and uses low platinum catalyst levels.
• Processing improvements – In processing, Syl-Off EM 7978 Coating reduces dust creation to minimize line interruptions for cleaning.
• Sustainability initiatives – From an environmental perspective, Syl-Off EM 7978 Coating contributes to energy conservation by using in-line coating, which avoids the need to power separate equipment and processes.
All Dow Corning silicone emulsions for food release comply with European food contact regulations (BfR recommendation XXXVI, Paper and board for food contact and BfR recommendation XXXVI/2, Paper and Paperboard for Baking Purposes.) They meet U.S. Food and Drug Administration (FDA) requirements for food contact (21 CFR Section 176.70,
Components of paper and paperboard in contact with aqueous and fatty foods, and 21 CFR Section 176.180, Components of paper and paperboard in contact with dry foods.) Also, they comply with kosher guidelines.
Dow Corning's Syl-Off EM 7978 Coating and its broader portfolio of silicone-based technologies are commercially available globally.
Companies in this article