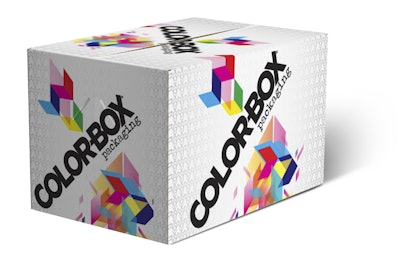 Georgia-Pacific Corrugated, a recognized leader in innovative, customer-focused packaging solutions, is introducing a new advancement designed to revolutionize the way craft brewers market their products. In alliance with PAX Corrugated, Georgia-Pacific now offers craft brewers the ability to customize graphics on 6-, 12- and 24-pack bottle carriers.
Georgia-Pacific, working closely with HP, has developed a unique digital preprinted corrugated packaging capability that provides customers with a level of customization and flexibility previously unavailable. This introduction will enable craft brewers to create packaging that attracts consumers at point of sale with high-quality graphics, low minimum order quantities, and variable images—all while saving on costly printing plates.
Georgia-Pacific unveiled the new Color-Box packaging solution for craft brewers at theCraft Brewers Conference and BrewExpo America in Philadelphia. Georgia-Pacific also officially launched www.customcolorbox.com, an interactive website that serves as a single online destination for craft brewers to design and order their packaging. By accessing the site's unique features, visitors can easily download a packaging template then upload a design with their own artwork and then send it to Georgia-Pacific Corrugated printing experts to receive a quote and proof. PAX will then produce the package and ensure the final packaging arrives on time—usually seven to 10 days after printing.
As the industry expands, craft brewers find themselves in need of new ways to capture consumers' attention at the point of sale. With the Georgia-Pacific Color-Box packaging solution, small and large craft brewers alike can now customize their packaging with high-quality graphics while still enjoying fast turnaround and delivery, supporting the demands of this growing industry.
"Georgia-Pacific takes pride in helping brand owners create a voice in the marketplace and we are excited to provide brewers with a canvas to tell their story in a way that is as unique and compelling as the product itself," says Sergio Morales, director of product and brand development at Georgia-Pacific Corrugated. "In an industry where creativity is a must—in both flavor and design—www.customcolorbox.com makes designing eye-catching packaging as easy as possible, so brewers can focus on their core business: making quality beer."
The ordering website complements Georgia-Pacific's Litho-Corr and litho-laminate offerings, allowing it to serve the creative needs of small and big customers alike. Georgia-Pacific has invested in technology aimed to make it a provider of choice for either an entrepreneur trying to start their brewery or an established brewer.
Georgia-Pacific's Color-Box packaging solutions include a full range of corrugated packaging, printing, and special offerings such as coatings, foil stamping, embossing and debossing, and flatbed die cutting. Georgia-Pacific and PAX Corrugated have the flexibility to accommodate sudden demand spikes, ensuring that craft brewers always have creative and engaging packaging on hand.
Companies in this article