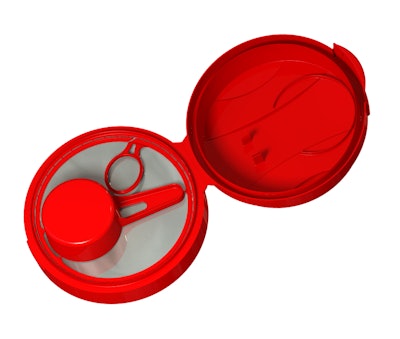 To enhance the accessibility of powdered food and beverage products for consumers of all ages, AptarGroup Inc. introduces a 120-mm flip-top closure featuring an integrated measuring scoop. Developed using the company's proprietary BAP technology (bonded aluminum to plastic), the new closure ensures the scoop does not end up at the bottom of the container and allows consumers to extract a precisely measured amount of product.
"Scoops are typically placed on top of powdered products during manufacturing, but they easily become buried in the container during transportation," explains Rodolfo Haenni, Director of Product Management, BAP at Aptar Food + Beverage. "Once the container is opened, consumers inevitably find themselves hunting for the scoop, spilling and wasting product in the process. Molding a scoop holder right into the top of closure eliminates this problem and enhances hygiene at the same time. The flip top design also ensures that all consumers, even those with smaller hands or arthritis, will be able to open large containers with ease."
Aptar's BAP technology uses a double-sided aluminum liner with plastic layers on both sides to permanently weld the closure to the container, providing a tamper-resistant all-in-one foil-to-closure solution that helps deter package counterfeiting. In addition to improving seal integrity and protecting product freshness and safety, the BAP Safe & Fresh Seal decouples the sealing and opening performance, reducing the force consumers need to remove the foil and ensuring a consistent experience for consumers each and every time. To access the product, consumers simply flip open the top of the cap, detach the scoop, and use the pull ring to easily and smoothly remove the liner. No additional tools are required and no sharp edges are left behind.
BAP technology is highly versatile, offering brand owners a great deal of flexibility and the opportunity to differentiate their products on the retail shelf. The technology is ideal for a broad range of applications such as nutraceutical and wellness products, pet food, liquid and powdered beverages, and household commodities.
Closures can be produced in a wide variety of sizes and shapes, including non-round, and are available in one- or two-piece styles as well as threaded and non-threaded versions. In addition, virtually all of the popular plastic formulations, or any combination thereof, can be used to form the plastic layers on both sides of the BAP Safe & Fresh Seal, making the technology suitable for a wide range of containers.
Companies in this article