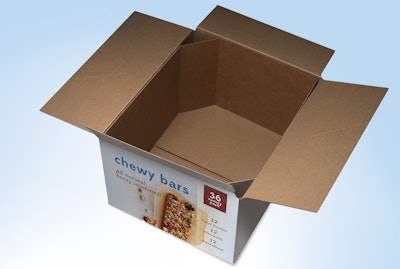 PaperWorks Industries Inc. announces its launch of ClubStak, an innovative paper-based packaging solution designed to help brand owners and retailers improve the consumer experience, meet package performance requirements, and drive sales growth.
ClubStak's construction features an outer carton made from 100% coated recycled paperboard and an internal liner made with custom-selected, paper-based material to address specific application needs. The liner material is applied in a strategic orientation to add strength to the overall structure. The result is a crush-resistant package that offers similar performance attributes to corrugated—such as strength, rigidity, and stackability—but offers the high-quality graphics appeal of a folding carton.
"Quality and value are the cornerstones of the ClubStak solution," says David Gray, Director of Packaging Business Development. "In most cases PaperWorks can develop a customized solution that uses less material, looks better on-shelf, and offers a lower total cost while meeting the retailers' performance requirements. Further, the advantage of partnering with PaperWorks is our knowledge and expertise in consumer preferences, materials and package design. This frequently translates into improved economics."
The reinforced carton structure can be web- or sheet-fed printed using offset or lithography. In addition, ClubStak can support holograms, film laminations, foil stamping, and high-gloss coatings. Metallic, and other specialty inks, also can be used to heighten visual appeal. Because ClubStak is not fluted, there is no washboard printing effect, leaving behind only pristine, eye-popping graphics.
"Because packaging frequently elicits the consumer's first reaction to your brand, PaperWorks package designers use consumer insights to help create an improved overall experience," Gray says. "This results in greater sales opportunities for both the brand owner and retailer."
To aid in convenience, product marketing, and merchandizing efforts, ClubStak is available with value-added display configurations and features, such as handles, easy-open/recloseable tear strips, and wide access/vertical dispensing spouts.
Companies in this article