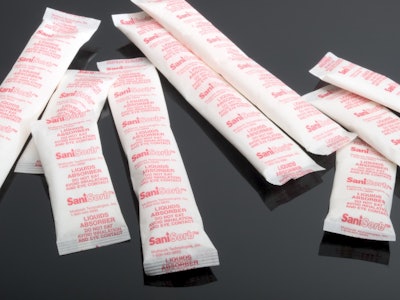 Multisorb Technologies introduces SaniSorb® medical liquid solidifiers and DriMop® liquid absorbers. SaniSorb medical liquid solidifier is used in many healthcare facilities to rapidly contain infectious waste. Packaged in pre-measured and dissolvable pouches, SaniSorb helps to eliminate spills, splashes, and the threat of cross-contamination caused by the handling of liquid medical waste. By quickly congealing biohazardous waste in suction canisters, the packets help to reduce OR staff exposure and ensure patient safety during surgical procedures. The packets are simply dropped into the suction canister, kick bucket, or other bio-fluid waste container and quickly immobilize the fluid, eliminating the need to tear open pouches or to pour the absorbent into the application.
This self-bursting technology provides an effective solution for adhering to requirements of the U.S. Department of Transportation's Hazardous Materials Regulations regarding absorbent material use for stored and transported medical waste. Manufactured in the U.S., SaniSorb is available in three pre-measured packet sizes (5 g, 7.5 g, and 15 g), making it compatible for use with all size systems including negative pressure wound care systems, small suction canisters, and large canister units.
Multisorb will also be featuring its super absorbent DriMop liquid absorber for the shipping, storing, and handling of aqueous solutions that must be contained. DriMop is available in self-bursting pouches and laminated sheets. The most common applications for the use of DriMop liquid absorbers include medical shipping containers and bio-specimen transportation bags used for vials, test kits, and lab trays.
Companies in this article