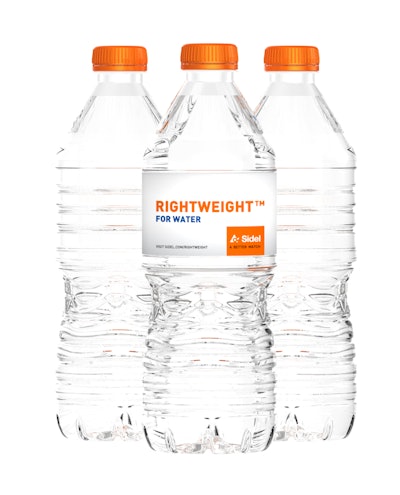 In addition, the stronger resistance means the RightWeight bottle is more likely to travel across the supply chain and retain its original appearance when it is placed on a supermarket shelf.
Compared with an average of 12 grams for commercial 0.5 litre water bottles available on the market today, RightWeight bottles 7.95 gram bottle represents 34% less weight than the average commercial bottle. It is also said to achieve 32% more top-load performance than the lightest commercial bottle, resulting in raw-material cost savings of up to EUR 1.75 million per year, according to Sidel. The blowing pressure for the bottle is also just 20 bars. In many cases the bottles can match the top-load performance of nitrogen-assisted ultra-lightweight bottles, however without the use of nitrogen, leading to further cost and energy savings.
The standard 26/22 neck finish has also been re-designed to save an extra 15% of weight, while maintaining compatibility with existing standard 26/22 caps, making the RightWeight bottle suitable for use on existing production lines that use standard cap formats. Other design elements can be adapted for existing or new commercial bottle designs as needed. Accompanying Sidel RightWeight molds and line conversions can help ensure production lines fully utilize the benefits of the new bottle designs. The bottle can be used for all Sidel PET packaging solutions and output speeds for still water, including the new Sidel Matrix™ system for liquid packaging.
Companies in this article