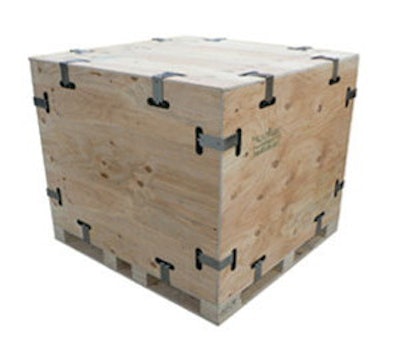 SnapCrates' unique stainless steel clip system contains tabs that can be removed without tools. The clip system fits into slots in the wood that are sealed with nylon inserts, preventing moisture damage and allowing clips to easily slide in and out of crates.
By removing the clips, crates can be broken-down and laid flat for storage.  They can be reassembled quickly without the use of tools.
SnapCrates are available in a variety of sizes, with volumes from 8.4-cu. ft. to 64-cu. ft. Additional and custom sizes are available.
SnapCrates feature:  3Ž/4-in. CDX, 5-ply plywood panels; 301 stainless steel clips; durable nylon inserts; 4-way pallet bases.  Made in the U.S.A.
Companies in this article