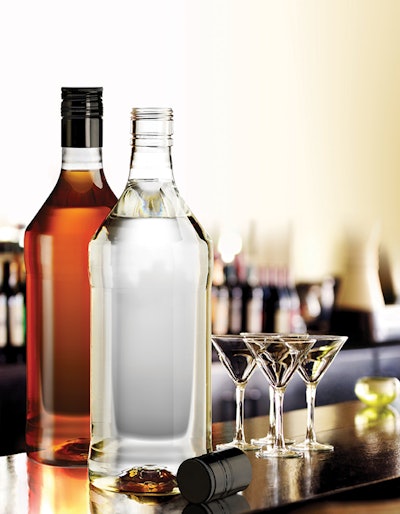 The ROPP finish design, available in 30-mm by 60-mm finish (750ml) and
36-mm by 52-mm finish (1.75L), helps enable a smooth conversion from glass to
 PET with minimal changes on the glass filling line. The ability to use the
 same aluminum closure for glass on PET bottles is a major advantage, 
offering brand owners a similar filling experience at reduced changeover 
and cost. In addition, brand owners are able to mimic the premium look of
 glass and achieve high-quality aesthetics.


The ROPP finish containers are designed to withstand the top load required
 for aluminum cap applications. The PET bottles meet all required testing 
to ensure a secure seal with the aluminum closure.  The ROPP finish bottle design also eliminates the neck support ring to enhance aesthetics.  Various decorating 
options including custom printing and embossing are available for
 the aluminum closure.

 
For the
1.75L stock bottle, a standard plastic pour restrictor ­ typically used 
for glass bottles ­ is incorporated inside the bottle neck to prevent
 spillage.  

For spirits makers, the switch to PET also delivers key sustainability 
benefits. PET containers are lightweight, unbreakable, and easy to
 transport. Lightweight packaging allows more cases per pallet/truck for 
fewer shipments, lower transportation costs, and reduced carbon emissions.


 
Companies in this article