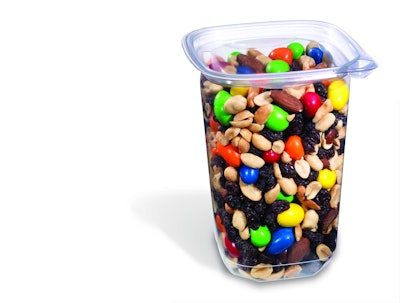 Evolutions environmentally-responsible deli containers feature easy open/easy close tamper-evident lids with tight-fitting, high-performance seals to assure maximum product freshness.
To date, over one billion water and soft drink bottles have been diverted from landfills and converted into Placon's EcoStar packaging.
The deli containers feature excellent clarity for visual impact and strong leak resistance making them desirable for cold, ready-to-eat deli foods including pasta salads, fruit and vegetables, as well as nuts and candy.
To open an Evolutions container, a tab at the corner of the lid must be bent upward. Once the tab is in the open position it remains upright, alerting customers that the container's seal has been compromised. The unique tamper-evident design eliminates the necessity for shrink bands or wrap labels.
Evolutions is available in two design options:  a recessed, or inside fit lid which allows for secure container stacking; and a film-sealed container with an over cap lid allowing extra room for product per container. The unique, tamper-evident lid fits all five, square deli container sizes ranging from 8- to 32-oz. allowing retailers to reduce inventory while maximizing shelf space.
Companies in this article