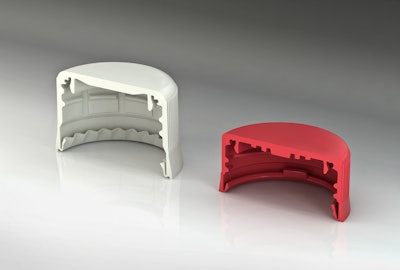 S.U.P.E.R. stands for Sustainable, Unique, Productive, Easy, and Reliable--the five key benefits of this innovative solution.  Sustainable, because the closure is said to be lighter than the average of alternatives on the market today, reducing the processor's consumption of raw materials and energy. 
Unique, because this is a proprietary solution, protected by patents.  Productive, because it reduces the time and cost of equipping production lines--when switching between containers for various types of products, including water, soft drinks, and aseptically filled drinks, very little modification is required to lines for either preforms or closures (the latter produced with SACMI's compression process, which already offers reduced tooling times and high production speed). 
Easy, because the solution provides the consumer with a bottle that is easy to open. The guaranteed positive LB angle gives the perception of a closure that is very easy to open. Reliable, because the special tamper evidence system provides an immediate breakage of the security strip, rendering the bottle secure, with no risk of blow-off.