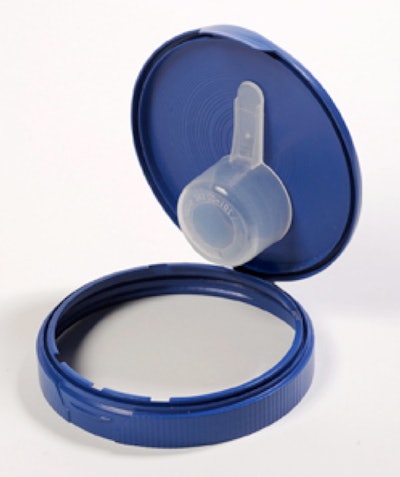 Designed for large containers that are big, bulky, and sometimes heavy and hard to handle, MegaFlap offers a variety of features that provide a clean, contemporary look and maximum shelf impact. MegaFlap's scoop retention feature allows the scoop to clip onto the inside of the lid, providing consumers with a simple and effective solution for measuring powder or granular products. The scoop retention mechanism helps prevent scoops that are easily lost or misplaced and scoops from falling into the container and becoming messy and hard to find.
MegaFlap also provides easy access to the product--the consumer can fit his or her whole hand inside. MegaFlap makes an audible snap upon closing, so consumers know the product inside is fresh and tightly closed. An enhanced thumb indent makes opening the cap an effortless experience for one-hand opening and closing. The closure's modern, polished look provides a fresh, high-gloss finish for great shelf impact.
MegaFlap's unusually large and flat surface area on the top of the closure provides abundant space for decorating with a logo, marketing message, or product information. The surface can even be custom embossed. Closure designs can be customized for unique package projects as well, using custom colors or special shapes. The closure is fully recyclable and uses less material (meaning less weight), which saves on shipping fuel.

Companies in this article