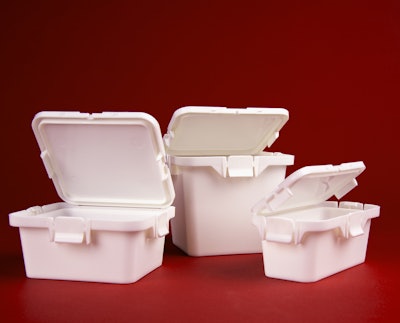 All too often, a package's child resistance and eco-friendliness are at odds with each other. But more and more, companies serving are finding ways to deliver both.
Enter STO Responsible. After investing several years in research and development, the company has released its line of cost-effective, sustainable packaging for the cannabis industry. The result is a package that protects products while curbing the amount of waste in landfills.
The STO product line is made with an oxygen-driven additive in the material that creates accelerated degradation, allowing the packaging to degrade safely over time without harming the environment. The containers are reusable, and the company encourages customers to repurpose them.
STO Responsible's packaging is sustainable, child-resistant and pet-resistant, adhering to the cannabis industry's strict compliance standards. STO Responsible containers are also designed with accessibility in mind: their rectangular shape, depth and wide mouths allow for easy access for those with dexterity issues. By enabling the user to reach in and grasp the desired amount or dose, the packaging eliminates the need for dumping out product onto a surface and trying to pour It back in.
The stackable units provide better branding and display options for companies that also must adhere to state-mandated labeling regulations. The units are designed for shipping efficiency, arriving in a nested format. This represents an improvement over many tube options that arrive scattered in a bag within a box.
Room for branding
The containers come with exterior sleeve and sticker dieline templates that are provided to STO customers at no additional charge. Brand owners can take these dielines to their desired printhouse to design and print their own custom graphics for sleeves and stick-on labels. The dielines give brands the freedom to showcase their logos and personal messaging however they choose, along with instructions, ingredients, product education and safety warnings. This is particularly important, as these products must stand out on the shelf at the dispensary.
Companies can also print directly onto the plastic using options such as Polyfuze Graphics.
STO Responsible's variety of sizes and shapes are available for packaging edibles, flower, joints, infused topicals and more. The container design is certified by the ASTM / U.S. Consumer Product Safety Commission (16 CFR, part 1700) International Standard (ISO 8317), made with food-grade material, 100% recyclable and manufactured in the U.S.
Companies in this article