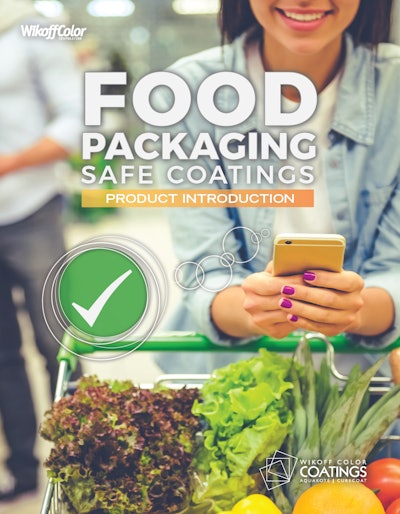 Wikoff Color understands the challenges that come along with printing according to safe food packaging requirements, whether they be customer specifications or national or local ordinances. Wikoff's energy-cure coatings R&D experts formulated high-performance coatings exclusively using materials from the Swiss Ordinances A and B lists that comply with the latest Nestlé 2016 Guidance Note for food packaging.
Wikoff Color offers several electron beam (EB) cured coatings for the food packaging end-use market. If users are looking for a matte finish with rub resistance, EBC-15495 is a great choice. This coating not only exhibits superior performance on press, but also has very low odor and low extractable levels. On the other hand, EBC-16035 is formulated to give the print surface a brilliant gloss finish, while containing no non-curable components. These EB curable coatings are both suitable for multiple substrates including paper, paperboard, polyboard, film, foil, and plastic.
Wikoff also has a variety of ultra violet (UV) cured coatings available. UVC-13125 is a high gloss UV curable coating containing polymeric photoinitiators and is HDODA-free, ITX-free and BPA-free, which makes it a great option for most food packaging applications where low odor is necessary. This product has a low skin irritation level and demonstrates very good flexibility. It provides good adhesion to a wide range of plastics and is suitable for food packaging with inner wrapping. Likewise, UVC-16241 is another great choice for most food packaging due to its highly flexible UV gloss finish that is HDODA-free, ITX-free, and BPA-free. This coating was originally formulated for high-shrink applications, but has proven to be effective on a wide variety of substrates including paper, paperboard, polyboard, film and foil.