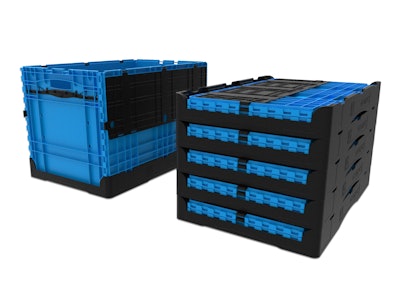 Loadhog Limited, the Sheffield-based, award-winning reusable packaging manufacturer, has added a new collapsible container range.
The collapsible container features an integrated divider system, allowing the user to divide package contents, thereby helping to reduce labor time.
The specifically designed features within the box not only ease handling but also provide significant strength to prevent damage.
"We have spent significant time speaking to users of existing collapsible containers on the market. We have listened to their concerns, built in their requests and created a product that is much more user friendly," says Loadhog's design manager, Leigh Jowett. "Loadhog is passionate about design and innovation, and on this occasion, we believe we have created another winner."
The new container is available in a range of sizes, including optional lids and dividers, and in multiple colors with RFID and with label points on each side.
In addition to the new collapsible range, Loadhog has added more sizes to its Attached Lid container (ALC) range with a 250mm option.
"Loadhog has gone from strength to strength since the launch of the ALC in 2015, picking up significant accounts across Europe," says Matthew Payne, Loadhog's retail services manager. "The new collapsible range should help to further secure its position within the European markets, with the 250mm ALC set to assist with that growth. It's an exciting time at Loadhog with more set to come over the coming months."