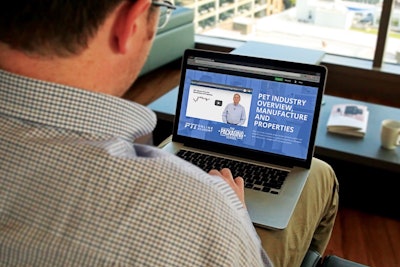 Plastic Technologies, Inc. (PTI) is partnering with The Packaging School to help packaging and plastics professionals enhance their polyethylene terephthalate (PET) knowledge with an online educational platform.
"The Packaging School is an exclusive licensee of a professional curriculum created at Clemson University. The courses provided help both new graduates and seasoned veterans do a 'deeper dive' on subject matter that is relevant to them. PTI is pleased to add its technical expertise to this robust curriculum," says Ron Puvak, Director of Marketing and New Business Development, PTI.
PTI course offerings through The Packaging School will include:
• Introduction to polymers and PET
• Container design and development
• Preform design
• Barrier container technology
• PET recycling
• Material handling and drying
• Blow molding processing
• Preform heating
• Blow molding machine practical
"We have identified PTI's expertise in PET packaging as a strategic fit with The Packaging School's vision to disseminate expert knowledge around the world. As a top influencer in the development of leading-edge PET packaging solutions, PTI has a wealth of resources and experience that can provide valuable information for The Packaging School's professional students," says Sara Shumpert, director.
PTI will continue to provide its educational content through its own PTI Online Academy portal, as well as multiple courses taught in a classroom environment in the U.S. and Europe.
Companies in this article