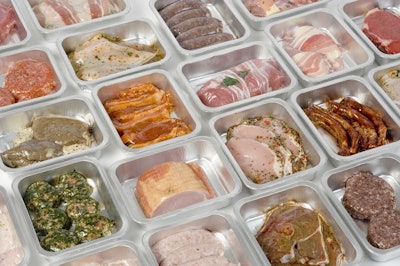 If desired they can also be used with snap-on plastic lids or film over wrapped.
The Smoothwall container advantages are:
> Film liddable / suitable for MAP processing - 10-15 days shelf life
> Suitable for Vacuum Skin Pack processing - 30 days shelf life
> Leak proof hermetic seal
> Heavy duty construction does - not flex when heated like plastic
> Attractive oven to table appearance
> Container appearance gives the illusion of a meal that was cooked from scratch
> No need to handle raw meat, poultry or seafood
> Microwaveable, grillable, ovenable and suitable BBQ applications
> Excellent temperature conductivity
> Cost effective
> Shatterproof when frozen
> Microwaveable
> Recyclable
> Plastic snap-on lid compatibility
> Convertible to compartmented versions with bakable dividers
This packaging is designed to bring affordable, quality meals to the kitchen table, meeting the needs of consumers who want to indulge in complete meals they do not have the time to make.
The unique appearance of the smoothwall packaging makes the meal appear as if it was cooked from scratch thus providing an added value to the homemaker. It also provides a format whereby the food does not have to be touched by the consumer before baking and has the added benefit of being served in an upscale container with minimal effort in bakeoff, service and cleanup.
It is a recyclable, non-petroleum based container which helps reduce our dependence on oil and has all the aspects of an ideal / convenient package for the consumer.