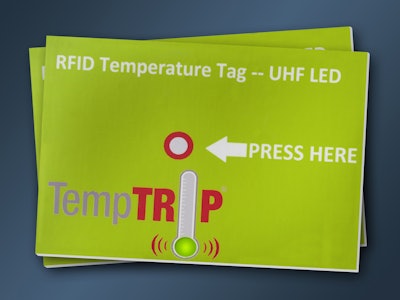 This content was written and submitted by the supplier. It has only been modified to comply with this publication's space and style.
The new credit-card sized tag features a tactile "button" which is pressed to start and/or mark temperature data at multiple points throughout the product's cold chain journey. When the button is pressed, an LED light on the tag blinks red if the temperature is out of range or displays a solid green if programmed parameters have been met.
TempTrip's UHF tag can be affixed to packages, cases or pallets and is capable of logging thousands of time/temperature points. The tag also has a five-year battery life which maximizes use and value. Its temperature range is -30 to +55 Celsius with accuracy of + 0.2 degrees.
"This time/temperature tag is the first to combine flexible performance with reusability and an affordable price point. We believe that TempTrip's new approach makes the technology desirable and affordable for just about any company which relies on cold chain distribution," said Phaedra Culjak, chief operations officer, TempTRIP.
At any point during shipment or storage, tags can be checked for preset conditions by pressing the button. (A button press also acts as a marker when tags pass through certain distribution points.) The radio frequency identification tags also can be read with hand-held or stationary readers with no computer. Alternatively, tags can be returned to TempTRIP and all results will be uploaded to a dedicated Web page within 24 hours of receipt.
The new tags have a powerful microprocessor that allows for a variety of calculations including remaining shelf life, mean kinetic temperature and multi-parameter alarms. Custom product configurations are written to each tag and are easily updated in the field.
"What this means is that companies can program the tags with time and temperature variables specific to any food or pharmaceutical product so that they have a good handle on remaining shelf life. This can be done at the beginning of the product lifecycle, whether it be at harvest, manufacturing, or any point in the distribution channel. The 'actionable' data can be used in a variety of ways including providing management information to distributors and grocers so they know which product to rotate out of the warehouse first," said Culjak.
Tags can be seamlessly integrated into existing RFID infrastructures (EPC, Class1, Gen2) or TempTRIP can provide companies with a variety of stationary or portable readers. Temperature results such as shelf life and alarm conditions can be pulled from the tags the instant they are read and detailed temperature records can be transferred within seconds, if needed.
TempTRIP's Web-based data system allows customers to easily check on the condition of their entire cold chain. Everything from quick reports to detailed graphs is available on line. Customers can save reports allowing them to review exceptions that may need attention with one click. All data is archived and can be reviewed, compared and analyzed at any time.
"Our new tag makes it extremely easy and affordable to monitor how time/temperature impacts the product from the beginning of its journey—from the field in the case of produce or the manufacturing plant for most other food and pharmaceutical products," Culjak concluded.
TempTRIP is a joint venture between Sealed Air Corporation and Results Oriented, Inc., a software, hardware and Web development company.