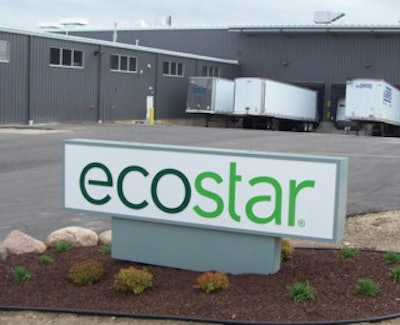 With this new 70,000 square foot facility, Placon accomplishes its plan to create a standalone manufacturing location with its own brand identity under the EcoStar name.

EcoStar purchases bales of curbside collected post-consumer PET bottles and mixed bales of post-consumer thermoform packaging, grinds them, washes them, and processes them into sheet and flake. EcoStar recycled PET products include flake, LNO (letter of non-object) flake for food packaging, and sheet products for the food and consumer products markets. At full capacity, EcoStar will process 36 million pounds of inbound material.

"We are excited about our new EcoStar facility as it enables us to produce consumer packaging from 100% post-consumer PET recyclate," said the company CEO Dan Mohs.

Along with the ability to wash and recycle PET, half of the new facility is engineered for sheet extrusion. This operational layout eliminates non-value-added activities and reduces the total carbon footprint by bringing the material supply chain closer to sheet production. Moreover, the supply of post-consumer plastics processed by the facility are collected primarily in the Midwest, streamlining local and regional operations at every step of the process.

"Our $14 million investment demonstrates our commitment to sustainable packaging and the reduction of solid waste. We believe that the best way to reduce energy consumption and conserve resources, from a cradle-to-grave perspective, is to recycle plastic packaging back into plastic packaging, thereby closing the loop," Mohs said.

For nearly two decades, Placon has pioneered the use of post-consumer recycled polyethylene terephthalate (RPET) in the consumer packaging industry. In the past seven years alone, it has diverted more than one billion discarded bottles from landfills. According to the Environmental Protection Agency, recycling one pound of PET instead of using virgin material saves approximately 12,000 BTUs of energy.

The new facility has created 44 new jobs. Currently Placon employs more than 400 people worldwide.

Companies in this article