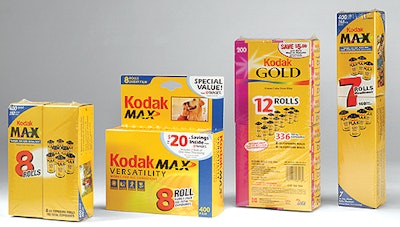 Consumer product marketers are plenty sophisticated when it comes to developing their brands' primary packaging for the grocery, convenience store, and drugstore channels. But they often miss an opportunity for creating greater brand appeal in the wholesale club store environment because they don't make effective use of their corrugated shippers and display trays. In the club environments, shippers become the primary packaging—and packaging designers have begun to take note. There's more to club packaging than just bulk sizes.
According to trade sources, wholesale clubs now account for well over $60 billion in total sales, and sales are projected to grow 10% annually over the next three years. There are now approximately 1ꯠ of these club stores in operation for the three leading companies: Sam's Club (Wal-Mart), Costco Wholesale, and BJ's Wholesale Club.
Groceries alone sold in these clubs totaled $25.7 billion in 2001, according to the 69th Annual Report of the Grocery Industry by Progressive Grocer magazine. That was up 9% from the previous year and compared to a 3.5% sales growth in supermarkets.
According to Progressive Grocer, in the course of a year a typical wholesale club store sells more than twice the grocery volume (more than $28 million per store) than chain and independent supermarkets. Those stores sell an average of $12.3 million/year per store. What is more, the current Annual Report indicates that consumers say they have the most pleasant shopping experience in a wholesale club store, and this percentage is up from the previous year.
Changing club emphasis
Ten years ago, wholesale clubs wanted to give the impression of low cost. The goods were shipped in plain brown boxes on pallets. Once in the club, the boxes were cut down, leaving 3" trays for product support. Today the focus is more on value, both for consumers and institutional customers.
Wholesale club stores are looking for quality products that stack safely and sell quickly, according to Tim Rose, senior vice president for food and sundries merchandising, Costco Wholesale, Issaquah, WA. "At Costco, product quality is our first and foremost concern. If you put a pig in a pretty wrapper, it's still a pig," he notes.
"Once we have the quality product, we want packaging that is structurally sound and functional," says Rose. "We stack pallets 20-feet high, so we don't want products being crushed or falling over.
"Finally, we want the packaging to help sell the products. We carry a limited SKU selection, so the product has to move fast or it's out," he points out. The wholesale club store format is expansive, and the aisles are wide. If the product isn't being promoted aggressively by the packaging, it can get lost in this environment.
"When a marketer's product isn't achieving the sales or hurdle rate we expect, we tell them to walk around the store and see what others are doing to gain the attention of our shoppers. Many marketers are using more attractive, colorful graphics on their trays, and some are using displays. It all helps improve sales," Rose adds.
Today, marketers and their agencies recognize that their product's sales turns can be accelerated with merchandise whose packaging promotes the brand in specific environments.
Looking to design
Michael Lucas, executive director of brand packaging for New York City-based Interbrand, a globally recognized brand development consultancy group, points out that each brand has its overall target audience. "If enough of that audience falls into a specific shopping environment, such as a wholesale club, we will recommend that the marketer do what is necessary to attract the target in that environment."
Too often, he says, the retail environment can be overlooked in design. "When making a brand presentation, packaging designers tend to place the major emphasis on the primary package," Lucas says. "However, the marketer also wants the best design decision for the specific retail situation, so we need to design to each retail environment. In the case of the wholesale club, for example, we recognize the need to make sure the brand image is well designed into the shipping tray or container."
Lucas adds that he believes shopping is very different in a wholesale club and advertising plays a stronger role there. "In the club, the consumer is thinking of getting the best possible price. However, the brand recognition from the advertising is swaying the purchase to the brand. The packaging that reinforces the brand image is important."
A quick decision
"A 15-foot, five-second rule seems to exist in wholesale clubs," says Andy Kerr, a packaging designer for Rochester, NY-based Eastman Kodak. "If the consumer standing 15 feet away from your product doesn't recognize it within five seconds, he or she will not buy it.
"Our bright yellow Kodak color and big bold graphics adorn our Kodak display trays in wholesale clubs as well as in other selling environments. We know that it's successful because our products are producing the turns that keep our brand in the club stores."
Dennis Woodall, retail environmental consultant and package designer for International Paper (Memphis, TN), conducts more than 50 packaging training seminars a year to blue-chip consumer product companies around the world. In his seminar on wholesale club packaging, Woodall discusses the latest packaging trends in the club channel and offers targeted suggestions for enhancing packaging design for this venue.
Woodall is a strong advocate for the use of white backgrounds and bold, colorful graphics to help brighten the club's merchandise appearance, to attract and hold consumer's attention, and to reinforce brand recognition.
Woodall also points out that packaging manufacturers are developing new substrates that improve the printability of corrugated trays. For example, Woodall says, International Paper, whose white linerboard sales were up 20% last year, just recently introduced a premium grade of linerboard called Ultra BriteTop™, that is said to offer higher brightness and a smoother, cleaner surface.
"This type of material," Woodall says, "gives marketers the shelf-pop in a shipping box that consumer product marketers traditionally strive for in their primary packaging."
Paul Russell, CPP, packaging process manager for Palo Alto, CA-based Hewlett-Packard, agrees with Woodall. "Image/color appearance is a subjective element based on what level of 'quality' is desired or acceptable. This level is determined, in most cases, by marketing.
"It's HP's position that poor-quality packaging appearance can subconsciously be interpreted by customers as a lower-quality brand or product. We investigated several [linerboard] substrates and found they had [quality] variations. For selected applications, the best alternative to our current premium substrate is IP's new Ultra BriteTop."
HP has several club stores packaging projects in the works that will use the new board. But for competitive reasons, it doesn't want to identify the products or when they'll be introduced.
Design with consumers in mind
Woodall reminds his packaging audiences that club stores have two distinct types of shoppers: institutional buyers and household shoppers. The institutional buyers, such as small businesses and restaurants, use the club stores much like they would buy from a wholesaler. Household shoppers are those who buy in bulk for the home.
"If a company sells industrial-sized carpet cleaner, and your target consumers are janitorial service companies, then feature the benefits on the packaging accordingly," Woodall advises. "However, if your brand has crossover appeal [both institutional and household consumers], you'll want to make sure to offer benefits on the packaging that a household shopper can understand and appreciate, and see from 15 feet away, and [recognize] within five seconds!"
Club stores are filled with brown boxes that are designed for shipping and warehousing, but with no thought as to selling in a retail environment, Woodall says. "You might ask, 'What is it? Is it a TV, a lawn chair, a bike?' All I see is a 'this end up' message, which is often seen upside down," he jokes.
Not only should your corrugated shipper be designed for rigorous handling conditions, but it also needs to be designed for being merchandised from any side, to ensure your brand is recognized, no matter the attentiveness of the store's merchandising staff, he adds.
Woodall encourages companies to make the effort to design packaging in a comprehensive manner. "Packaging design agencies are not often asked to develop wholesale club packaging. This can be a missed opportunity," says Woodall. He encourages companies to talk to the merchandisers at the store, asking their opinions about good and bad package design for handling convenience, merchandising appeal, and disposal for baling.
Plus, he adds, companies can get ideas from other products and brands. "Look at the complete category in the store," he suggests. "Is your package/brand likely to get noticed first on the shelf, or is it lost? Does it communicate the features, advantages, and benefits of your product/brand effectively? Do your packaging graphics appeal to your target audience?" Once an impartial evaluation is made, Woodall encourages manufacturers to have a qualified designer develop the packaging, especially using one experienced in club store packaging and in the packaging specifications of the store chain.
Shoppers seek what Woodall calls visual brand identifiers (VBIs) in the store to quickly find the brand and move on to the next item on their shopping list. Color is the first VBI (some examples are Kodak yellow and Coca-Cola red). For lesser-known brands, communicating the features of the product becomes paramount, he says.
"Party in A Box" describes pretty well what a product is, but colorful symbols that show balloons, confetti, and party hats will reinforce the festive fun that can be had, taking the consumer's "guesswork" out of the equation.
Successful merchandising—whether in a supermarket or a club store—is all about communicating to the shopper. And, because so many products are sold to club stores in plain but functional institutional packs, there are great opportunities for manufacturers to use the same shopper appeal they apply to their packages for other outlets. —AO
See sidebar to this article: Lance repacks for floor display
Companies in this article