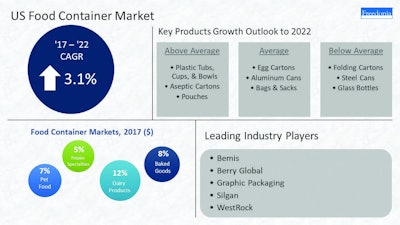 Those benefits will help drive demand for future rigid plastic food containers, which is expected to increase 4.2% per year through 2022, to $7.7 billion. That's according to Freedonia Group's new study, Food Containers in the US, 11th Edition.
Gains will be by far faster than paperboard, metal, or glass containers and will continue to take share from other products.
Further gains will be limited by competition from flexible plastic containers, particularly pouches, which offer additional source reduction and convenience advantages.
The largest market for rigid plastic food containers will remain dairy products, notes Freedonia, due to the suitability of plastic for all sizes of yogurt, including bottles for drinkable yogurt. These products will benefit from increased awareness of protein and probiotics, boosting demand for their plastic containers. Plastic containers are also widely used to package sour cream, butter, and some cheese products.
Fresh produce will also represent significant large demand growth through 2022, a result of the increased use of plastic clamshells for small and delicate items, previously sold loose, in bags, or in baskets.
The 177-page report is available for $5,500 from The Freedonia Group. Contact Corinne Gangloff by phone 440/684-9600 or email
pr@freedoniagroup.com.
Companies in this article