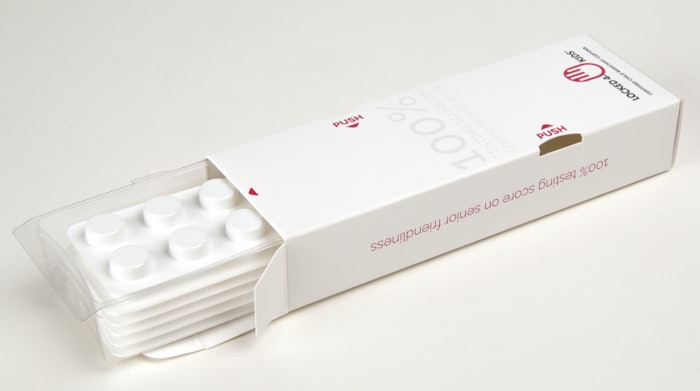 The Locked4Kids package includes a carton and a plastic tray that holds product, such medicines in blister strips. To access the product, the tray is pulled out from the carton like a drawer. To secure child safety this only works if two tabs on the top of the carton are pressed simultaneously. These push points are located diagonally across each side of the carton, making it difficult for children to access the package, yet easy for adults.
The versatile package with interlocking components helped Locked4Kids earn the Best of Show Award in the Drug and Pharmaceutical Category in the Institute of Packaging Professionals' 2017 AmeriStar Package Awards Competition.
The Best of Show Award honors a package that surpasses all judging criteria and that judges unanimously rated "outstanding" in every category. According to a press release announcing the winners, "The AmeriStar judges were very impressed with this innovative way to make medicine packaging both child-resistant and senior-friendly."
More than 80 packages for 12 category awards, four student awards and AmeriStar's top three awards were considered by nearly 20 judges from various segments of the packaging industry, examining package innovation, product protection, economics, performance, marketing and environmental impact.
Beyond the Best of Show Award, the other top AmeriStar awards include the Sustainable Package Award and the Design Excellence Award.
The Design Excellence Award winner, in the Industrial/Commercial Category, was Eaton's Neo-Ray Light Fixture by the Transparent Container Co. This award recognizes the package that best integrates structure and graphic design. Judges look at in-store presentation and how the improved package functionality can persuade consumers to think about the product in a new way.
This clamshell packaging protects Eaton's architectural lighting fixture from assembly to final activation. It allows testing and installation to be done without taking the product out of the package.
Transparent Container Co. accommodates two- and four-ft light fixtures with a single design by including an integrated connection joint, which allows two two-foot sections to be snapped together for a four-foot fixture.
Meanwhile, the Sustainable Packaging Award Winner, also from the Industrial/Commercial Category, went to TempGuard Insulated Liners from Sealed Air Corp.

The Sustainable Packaging Award honors the most resourceful package in the AmeriStar competition. Judges consider how packaging can reduce its impact on the environment, evaluating efficient energy usage; recycling efforts; and effective use of reusable, recyclable and eco-friendly packaging materials.
TempGuard curbside recyclable, paper-fiber-cushioned box liners give 48 hours of thermal protection for perishable goods from warehouse to doorstep. They can be used within boxes made from board stocks, or any other type of packaging material, to insulate with an R-value of 3.7 per in.—similar to EPS material.
Companies in this article