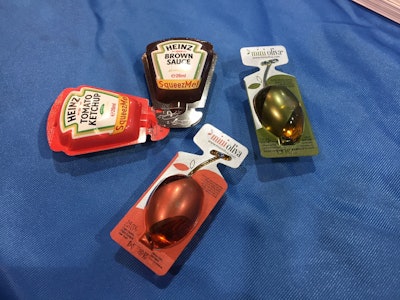 The packs take aim at more common sachet packets designed for condiments, sauces, salad dressings, and olive oils.
Sarong's polystyrene packs are vertically thermoformed, filled, and sealed in machines like the model FP-40, which is designed for liquid and semi-liquid contents. Contents can be hot- or cold-filled, and are heat sealed.
Such packs have potential in the cosmetics, personal care, and nutraceutical markets as single unit-doses. This package format is used as a quality differentiator for upscale supermarkets or foodservice operations. Sarong keeps North American offices in Toronto.