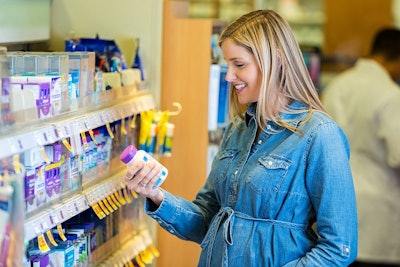 How does a consumer interact and use a package? What makes one pack appealing and another not? What closures work best with vitamins, supplements and minerals, or for over-the-counter pain medications for that matter?
To find out, TricorBraun plans to conduct consumer research focus group sessions to discuss and gather packaging preferences and insight in nutraceutical and pain medication categories. The focus groups will participate in a discussion surrounding functionality, engagement and visual appeal of dispensing closures (standard market size) for a variety of different types of nutraceuticals (vitamins, supplements and minerals).
These groups will also provide feedback specific to functionality, engagement and visual appeal of pocket packs (portable vessels) child-resistant closures (CRCs) for OTC pain medications.
The specific functionalities considered for each packaging alternative include the consumer's interface with the package (ease of use in opening/closing, security of the seal and dosing). An independent market research company will moderate the discussion among groups over a two-day period. The demographic will include men and women and will be split into two age groups: 25 to 45 and 46 to 70.
Insights gained from observing and engaging with consumers will reveal preferences for how they want to interact and use packaging. These insights will allow TricorBraun packaging consultants to better recommend available and meaningful packaging solutions, not only for the future package design of nutraceuticals and OTC pain medications, but also in other categories.
Says Becky Donner, TricorBraun Senior VP of Design & Engineering, "We continue to be committed to an exploration of consumer preferences in order to deliver insight-driven package solutions that are innovative, yet mindful of real-world constraints. By looking inside the mind of the consumer and gleaning a picture of how and why they use products, we are able to elevate every aspect of packaging design to help [customers] win on shelf and help consumers win at home."
TricorBraun Design & Engineering Group is a business unit of TricorBraun, a provider of rigid, corrugated and flexible packaging.
Companies in this article