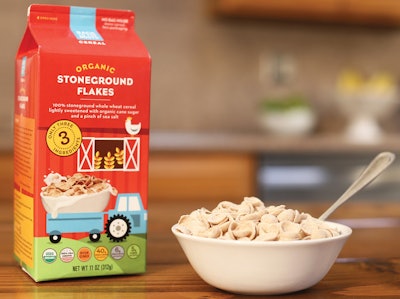 In late February, the fast-growing startup (www.backtotheroots.com) announced its third product, Stoneground Flakes, a 100% U.S.-grown, ready-to-eat organic breakfast cereal made of just three ingredients: stoneground whole wheat, sea salt and organic cane sugar.
Through mid-March, the first orders for the cereal began rolling down production lines and on their way to Whole Foods stores in the U.S. Northwest and West Coast as well as Costco. Other early targets include Amazon Prime, which influenced the package design.
An 11-oz. gable-top carton provides a visual departure from the "same kind of crappy, hard-to-open, hard-to-pour, hard-to-seal, un-recyclable bag in a box," of traditional cereals, co-founder Nikhil Arora said in a launch video. The carton uses less 25% less packaging material than traditional cereal boxes, and is filled up to 90% vs. as low as 60% for traditional bag-in-box cereals, which makes for much more cost-efficient e-commerce fulfillment operations. Configurations vary by customer, and co-packers are prepared for filling, cartoning and multi-packing customization.
As with the company's two prior products — a Mushroom Kit for growing organic mushrooms in 10 days from a clever little brown box, and the AquaFarm, a self-cleaning fish tank that also grows herbs —co-packers continue to play a vital role.
Outsourcing strategy
Today the company uses one co-packer for the Mushroom Kit, one for the AquaFarm, and another for the new gable-top cereal carton. (Read our prior story, "Home mushroom farming, fish gardening and other supply chain collaboration challenges," by searching the headline at www.contractpackagingmag.com.) Another co-packer is now ramping up for new products. At least one of the new co-packers was sourced using the Contract Packaging Association's Request for Quote service, according to Arora.
"Our co-packers mostly do assembly," Arora explained. "We ship them the components, they package them, and ideally, pallet orders are shipped from the co-manufacturer to the customer." He added that an additional provider, a logistics firm, is used for additional needs.
Despite its size — revenues were "just under $5 million last year" on sales of two products — the company whose growth gained praise and notoriety from leading business magazines and the White House is set to introduce seven new SKUs including new varieties of the cereal to include 1 oz. single-serve packs, snack packs, and a line of "toppers" to customize breakfast cereals or yogurts and two new varieties of something completely different: Garden-in-a-Can —organic herbs in a can consumers open to feed, add water and grow on their windowsill.