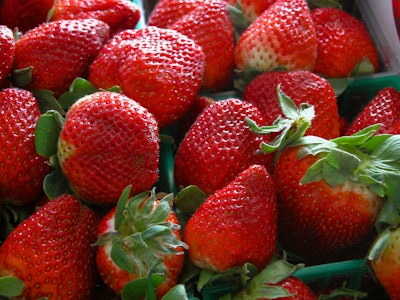 Shipping fresh strawberries in corrugated containers costs 13% less than shipping the same volume of strawberries in reusable plastic containers (RPCs), according to a new economic case study from the Corrugated Packaging Alliance (CPA). In the case scenario studied, an annual savings of $6.6 million was realized by shipping the strawberries in corrugated versus RPCs.
A large strawberry grower in Salinas, CA, provided actual data to populate a cost-analysis tool, which analyzed total annual system costs. The case study compared the costs involved in using corrugated containers versus RPCs to ship 144 million pounds of strawberries to Cincinnati.
The analysis shows that RPCs incur $12 million higher trucking and handling costs than corrugated, due to RPC backhaul trip requirements and handling costs at return distribution centers, plus washing costs and higher trucking costs from farm to retailer to DC. The return trip for RPCs, which includes additional handling, trucking, and washing, adds $8.3 million in costs that are entirely avoided by using corrugated containers, according to the study. At an estimated $0.10 per container, washing alone adds $1.6 million to the annual cost of using RPCs.
Corrugated containers do not require backhauling because they are recovered for recycling after use at retailer locations. Notes the CPA, supermarkets and retailers have helped propel corrugated recovery to an impressive 91% in 2012, and they earn revenue from the sale of used corrugated.
The system cost savings from using corrugated containers is spread across supply chain stakeholders. A study of the data using a special rental analysis module in the software shows that, in a typical leasing arrangement, the retailer pays $4.6 million (13%) more to receive the strawberries shipped in RPCs as opposed to corrugated. The grower pays $3.8 million (40%) more to ship in RPCs. So both growers and retailers save money when corrugated containers are used to ship strawberries in this case scenario.