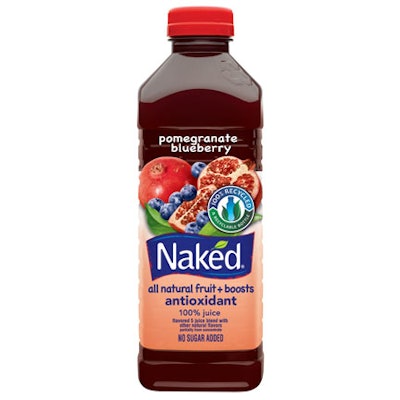 Naked Juice has announced that it has become the first nationally distributed brand to transition to a 100% post-consumer recycled PET (RPET) bottle from a proprietary supplier. According to the company, the Naked reNEWabottle™ embodies Naked Juice's commitment to creating a more earth-conscious juice.
Naked Juice expects to have its entire product line transitioned to the 100% post-consumer recycled bottles in 2010, starting by converting all of its 32-oz bottles in July 2009. Additionally, all of Naked Juice's bottles will continue to be recyclable.
Consumers can begin looking for the Naked reNEWabottle this month for all flavors that can be found in 32-oz bottles. The new bottles are easy to identify: While the previous bottles were translucent, the Naked reNEWabottle is clear, showing off the vibrant juice inside, and will feature a label indicating that the bottle is 100% recycled. Products available in the 32-oz size are Green Machine, Blue Machine, Mighty Mango, Chai Spiced Cider, and Pomegranate Blueberry, as well as Protein Zone, which will be introduced in August.
A recycling revolution
Simply put, says Naked Juice, it's a bottle made from other bottles. The Naked reNEWabottle is made of 100% post-consumer recycled content. These PET bottles are plastic coded #1, which are easily recycled.
Throughout its product's life cycle—from sustainable sourcing to sustainable manufacturing—Naked Juice says it strives to reduce its environmental footprint, offering consumers maximum taste and minimum impact.
"The transition to 100-percent post-consumer recycled bottles is a major milestone that we have worked hard to achieve. It's important for the earth, and that's important to our consumers," says Mikel Durham, general manager of Naked Juice. "If you were plastic, wouldn't you like to come back as a Naked Juice bottle? With the new Naked reNEWabottle, consumers can reduce, reuse, recycle ... reincarnate!"
Every bottle counts
The initial 32-oz bottle transition reduces virgin plastic consumption by 1 million pounds per year and oil use by 8,192 barrels every year—the equivalent of taking 497 cars off of the road. This is according to the U.S. Department of Transportation, Research and Innovative Technology Administration, Bureau of Transportation Statistics' figures of 2007 Motor Vehicle Fuel Consumption and Travel (average gallons of fuel consumed per vehicle = 692).
When Naked Juice finishes transitioning its entire line, virgin plastic consumption will be reduced by 8.1 million pounds per year, saving 57,000 barrels of oil every year—the equivalent of taking 3,460 cars off of the road.
Taking steps that Mother Earth would like
The transition to the 100% rPET bottle is part of the company's ongoing commitment to reducing its global footprint. In April, Naked Juice announced that it became the first U.S.-based juice company to team up with the Rainforest Alliance (www.rainforest-alliance.org) for sustainable fruit procurement. The Rainforest Alliance Certified™ seal is included on all Naked Juice products containing bananas, which are found in 80% of Naked Juice products.
Late last year, the company also announced a move to a new, state-of-the-art facility, designed to meet the criteria for LEED certification. This new plant reflects Naked Juice's commitment to making superior products in environmentally responsible buildings.