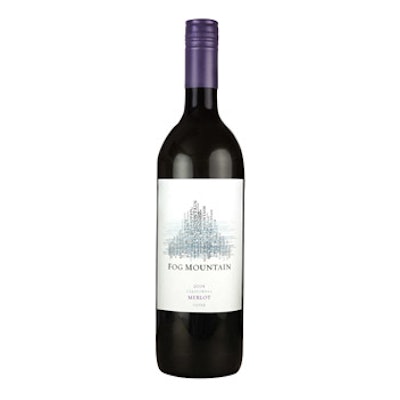 Boisset Family Estates of Burgundy, France, has recently begun U.S. distribution of Fog Mountain Merlot in a 1-L PET bottle. It's believed to be the first California wine in the larger sized, lightweight bottle featuring MonOxbar oxygen-scavenging technology from
Constar
(
www.constar.net
).
Boisset's decision to introduce Fog Mountain Merlot in a 1-L PET bottle rather than a 750-mL PET bottle is based on consumer feedback. Because PET is significantly thinner than glass, 750-mL plastic bottles are smaller than their glass counterparts, creating the perception of containing less wine. So Boisset made its big idea even bigger, moving from the traditional 750-mL size to an attention-grabbing 1-L size. The empty bottle weighs 70 g. A comparable glass bottle would be in the range of 700 g.
A 1-L Fog Mountain Merlot PET bottle contains 33% more wine than a standard 750-mL glass bottle even though the two bottles are similar in size. The added volume equals more servings--about seven in all--and greater value--the bottle retails for about $12. The lightweight plastic bottle, finished with a convenient screw closure, is portable and shatterproof, making it an attractive option for entertaining as well as for the hotel and restaurant trade. It also displays well on shelf.
While size matters, the package's sustainability also earns high marks. The PET bottles have a smaller carbon footprint than comparable glass bottles and require less energy to produce, ship, and recycle, says Constar. After contents have been enjoyed, the bottles can be placed in curbside recycling bins, and the reclaimed material can be used to make a variety of new products, including packaging, sleeping bags, clothing, and carpeting.
"We're excited to add Fog Mountain to our leading portfolio of wines in innovative packaging," says Jean-Charles Boisset, president of Boisset Family Estates. "We genuinely believe that it's vital for all of us to consider the environmental impact of our wines, our businesses, and our products, and to find solutions to reduce our impact while delivering the highest-quality and best value that consumers desire. Fog Mountain and the other wines that we bottle in PET are part of that solution."
The Fog Mountain bottles, designed in the classic claret shape, are blow molded by
Field Bottles Manufacturing Corp.
(
www.fieldbottles.com
) from preforms supplied by Constar. The new 1-L PET bottles of Fog Mountain Merlot are available nationwide on-premise at JW Marriott hotels and off-premise at Total Wine stores, with additional restaurant, retail, and hotel partners expected by middle of this year.